Have you ever wanted to cross the Arctic circle? Well this is your chance! Join us on the Grimsey Arctic Island tour!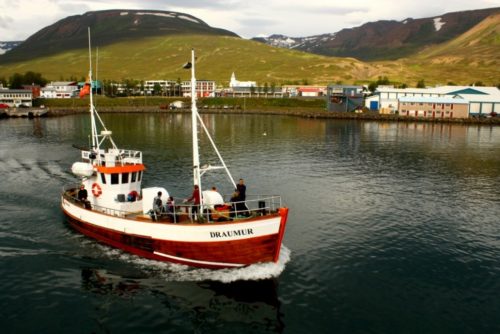 You will sail over to Grimsey Arctic island where you will be able to cross over the arctic circle and experience local culture. The Island is rich of bird life with abundance of puffins every summer. About one hundred people life in Grimsey Island but one million seabirds.
The guided tour gives you an extra insight into life of people in Grimsey Island. You will be guided through the best bird watching areas, get stories about the locals, the nature and the lively hood of the inhabitants.
The tour starts with the ferry Sæfari at 09:00 in Dalvik and you will be in the Island at 12:00. Starting with a light lunch as you breath the fresh air of the arctic circle. Then off you go with your guide to experience this beautiful and remote Arctic Island.
After finishing the tour you will again get a light refreshment as you take in that silence and unspoiled nature you experienced before. The ferry then leaves at 16:00 and arrives in Dalvik at 19:00.
Come join us and get that certificate, that you have gone across the arctic circle.
INCLUDED IN THE GRIMSEY ARCTIC ISLAND TOUR
Transfer to Grímsey island and back with the ferry Sæfari
Guided tour while on the island
A certificate that you crossed the Arctic Circle
A light lunch
A stop at one of the best bird watching areas in Iceland
Seeing the work of the locals
Meeting the locals for a light chat
WEATHER CONDITIONS:
This tour is weather dependent and may be subject to cancellations. The final decision will be made by our captain with many years of experience, putting passenger safety and comfort first at all times!
In case of weather cancellations please contact us for rescheduling or for a full refund.