The name of our lovely island sounds so cold and inhospitable but don't let the name put you off. The weather in Iceland is actually relatively mild for its latitude which means its not as cold as it sounds.
So why isn't the weather in Iceland chillier? Well, we can thank the warm Gulf Stream for that. He's kind enough to flow around the southern and western coast. And we can't forget about the southwesterly winds from the Atlantic, they play a huge part in the fact that it doesn't get ridiculously cold in Iceland during the wintertime. The average temperature in Iceland in January is only -1 °C or 31 °F, so that's much warmer than in many cities in Northern Europe and the US. The average temperature in July is however nothing to brag about, since it's only 11°C or 51°F.
With that said, it can get massively cold in certain conditions. The lowest temperature on record is -39,7°C or -39,5°F and temperatures in the northern part of Iceland can range from around -25°C to -30°C or -13°F to -22°F.
Not just about the temperature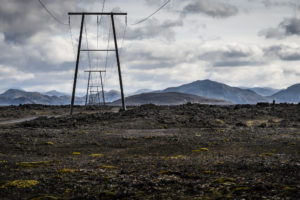 Ok, so now we've gone through the temperature. The C and the F words. But that doesn't always tell the whole story. I bet most Icelanders would gladly trade in the relatively mild climate and get a predictable weather forecast once in a while in stead. Because you can't really count on the weather in Iceland – ever. It's so annoying. You can wake up and the sun is shining. So you go out, maybe have a swim and by noon it's pouring rain. Two hours later a snow storm kicks in and by night time all the roads are closed. So even though we're obsessed with weather and closely examine the weather forecast during the evening news, we know that we have to view all forecasts with a grain of salt.
There is even a saying for the unpredictable weather in Iceland: "If you don't like the weather right now, just wait five minutes." That's so true!
24 hour sunlight
And while the endless dark in the wintertime can be quite tiring, we get the added bonus of the midnight sun. During the summer we have sunlight 24 hours a day and it's so uplifting! It's starts around the summer solstice, approximately the 21st of June, and goes on for a couple of weeks. It's amazing – you have to try it!
One thing we don't have a lot of is thunderstorms. They are extremely rare, with fewer than five storms on average in the southern part of Iceland.
So, if you're traveling around Iceland, be sure to check the weather forecast quite frequently. You can do that here. The Icelandic Road and Coastal Administration also has a clever website for you to browse through were you can see road conditions in the whole of Iceland. Please check that out if you want to stay safe. Also read our blog about off road driving – it's forbidden.
Another good link is Safe Travel, which is managed by the Icelandic Association for Search and Rescue. You can leave your travel plan with them and they update their website frequently with alerts and warnings.
With all this said, Iceland is well worth the visit – even though the weather isn't always up for negotiations. We have such a vast array of natural wonders and sometimes I feel like we're a handful of countries, all tucked into one beautiful island.