Posted on
Sunday, January 1, 2017
Hands down the best burger I have ever had lives at Chuck Norris grill! The meat is exquisite, the bun is beautiful and the sauce – my, oh my! It's out of this world!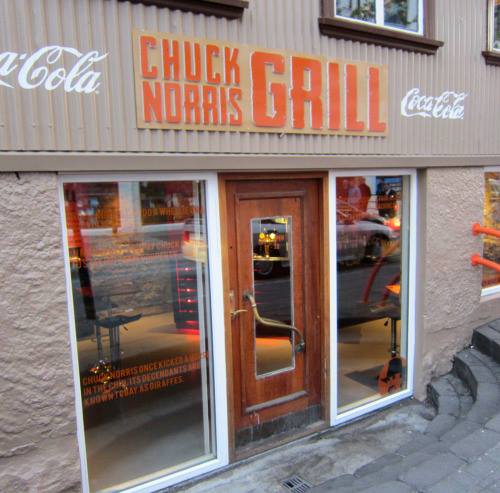 I am a huge fan of exquisite hamburgers and that is why I adore Chuck Norris Grill in down town Reykjavík. You can feel the quality in every single ingredient that makes up their burger and the meat simply melts in your mouth. But don't worry, if you don't like burgers you can also enjoy a steak or a sandwich. I have never tried either of them, since I'm obsessed with the burger, but I don't doubt that they are absolutely fabulous, for a second!
But a place named after the legendary Chuck Norris would be nothing without some kick ass Chuck Norris jokes. And this restaurant has plenty of those hanging up on the walls. So not only do you get an awesome burger, you also get to laugh your ass off.
I mean – who doesn't love Chuck Norris?
How to get here?
The restaurant is located smack down in the middle of Laugavegur – the main shopping street in Iceland. It's located in the basement of Laugavegur 30.
If you're not staying down town and have to take the bus you can take the number 1, 3, 6, 11, 12, 13 or 14, get off at Lækjartorg and walk up Laugavegur. Or you can take the number 1, 2, 3, 4, 5, 6, 11, 12, 13, 14, 15, 16, 17 or 18, get off at Hlemmur and walk down Laugavegur. Just be careful not to miss this place, since it is after all located in a basement. And if you're in the mood for some cold beer, there's a bar right upstairs. Convenient? I think so!