Posted on
Monday, March 14, 2016
If you want to eat the best pizza in Iceland by far you should definitely drop by Eldofninn. And it's located in the same building as Iceland's friendliest shoe repairman. How convenient!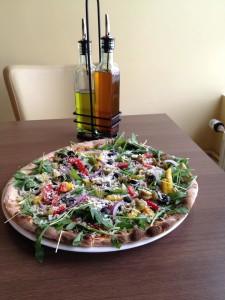 Pizzeria Eldofninn is a family run business and you can definitely feel that vibe when you walk in the place. It's small, it's cozy and the staff is super friendly.
But because it is indeed the best pizza in Iceland (#myopinion) it's usually extremely packed. So I suggest you show up early, but not too early during the weekends since it doesn't open it's doors until 5 pm on Saturday and Sunday. On weekdays it opens at 11.30 am – just in time for the best lunch you've ever had.
How to get here?
It's the same principal as with our shoe repairman but Eldofninn is located on the outside of Grímsbær complex so you don't have to enter the shopping center. Tell your taxi driver to drive to Grímsbær and you can't miss it.
Or hop on the number 11 bus and hop out at the bus stop called Grímsbær. So easy!