Posted on
Friday, June 9, 2017
If you're wondering what to do with your days in our beautiful capital, we highly recommend you visit the Reykjavík Flea Market.
The Reykjavík Flea Market is called Kolaportið, which loosely translates to The Coal Yard. The story behind the name is that the Kolaportið first opened on Saturday April 8th in 1989 in a car park by the Central Bank of Iceland. That car park was called Kolaport because it originally served as a coal processing plant, because of it's location near the Reykjavík harbor. When Icelanders no longer needed coal, the house was changed into a car park.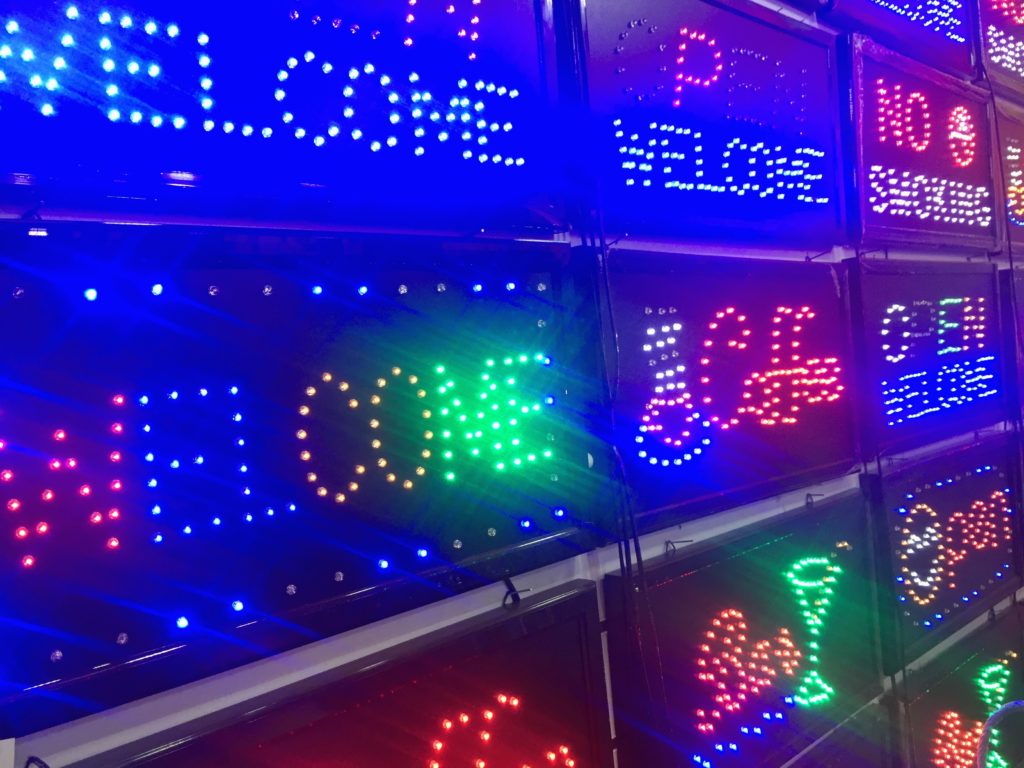 But enough about history, let's talk more about the actual flea market, which is in fact the biggest one in the whole of Iceland. So, it's been around for almost 30 years but it's not located by the Central Bank of Iceland anymore, but a few steps away at Tryggvagata 19, right next to the world famous hot dog stand Bæjarins Beztu. You can choose your entrance, but this guide is written like you would enter the flea market from the side where you can see the hot dog stand and Harpa concert hall.
A smell you won't believe
First things first. Be prepared for the smell when you enter Reykjavík Flea Market. It's hard to describe but it really messes with your senses. It's like a mix of fermented shark, sweat, old books and ice cream. I, for one, think it's the most horrible smell I've ever encountered. So, why do I even visit Kolaportið? Because all the other things about Kolaportið makes the smell truly insignificant. And you get used to it after a while.
Withdraw some money and haggle!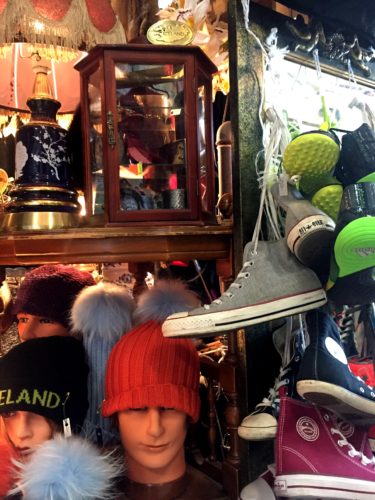 There's an ATM by the entrance, and even though you're just going to browse I recommend you withdraw a few thousand ISK. Just to be sure. There are some stalls that accept cards, but very few of them do, and if you see something you like you have to act fast because it could be gone by the time you've gone all the way back to withdraw some money. Having money on you also puts you in a better position to haggle.
Alway try to haggle at Kolaportið. And I mean always. Some of the people that are selling goods there, put up stalls at the flea market every weekend so it's kind of like a business for them. Those people might not be as willing to haggle as the ones that have just rented a space for the weekend, selling bits and pieces they don't want or need anymore. Maybe this is a good time to point out that the Reykjavík Flea Market is only open on the weekends, from 11 AM to 5 PM.
Fermented shark and flatbread
When you've taken a few steps inside the flea market you will see food vendors on your left hand side. I would suggest saving that area of the market for later because it's my favorite spot, but you can of course make up your own mind. At the food area are various businesses selling their goods, but they do have one thing in common: They all sell authentic, traditional, Icelandic food. Whether it be pastries or fish. So, if you're in the market for dried fish, fermented shark, flatbread or rye bread – this is the place to be. Sure, it's not the best bargain you will ever make, but I can guarantee you're buying quality products. If you're on the fence, you can always sample some of the delicacies to make up your mind.
The food area is shaped like a U and on the other end, further away from the entrance, is a stall with Icelandic candy. That's probably the most iconic stall ever at Kolaportið. Now, I'm not totally sure, but in my head this stall has always been around at the flea market, for the whole 28 years. And the same woman stands there every time, selling wonderfully fresh licorice with her brash tactics. I just love that woman. And even though I know that I can get the same candy cheaper somewhere else, I can't resist buying it off her. Because she's amazing. And now I want licorice!
Something for rich Björk fans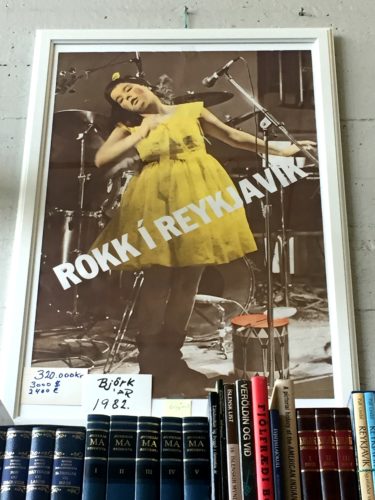 At this point, it's just a matter of browsing through the aisles and checking out various stalls. At the back of the building, which faces the harbor, you can get authentic, Icelandic woolen sweaters, the lopapeysa, and right next to that stall you can buy books. And loads of them. You can also get your hands on a rare Björk poster, if you're a Björk fan, but it will cost you. 320.000 ISK to be more precise. That was up last weekend so who knows what the next weekend will bring.
Interesting, fun and smelly
The Kolaportið is really a collector's dream. There are so many unique items on sale there, items that you might have a hard time finding anywhere else in Iceland, even in the world. If you want to get a bargain, those are not the items you should be looking at. Your best bet is to find a stall with second hand clothes, because you can really haggle those prices to the ground. Some stalls have new and unused things for sale so haggling won't get you very far with those, but always try, like I've said before.
And last, but not least, the Reykjavík Flea Market is an excellent place to interact with locals. To watch the cross section of the Icelandic society. I think I can safely say that almost 100% of Icelanders have at one point or the other visited Kolaportið. It's a nice hang out, a cool place to be. It's interesting, it's fun and it's smelly. And it's one of Reykjavík's most popular attractions.