Posted on
Monday, November 20, 2017
My favorite month of the year has arrived! If you're visiting Iceland in December you are in for a treat and I am here to tell you why!
I feel I can't really go into Iceland in December without mentioning Christmas! Yep, it's Christmas time in Iceland, since it's a Lutheran country. Actually, I think Christmas is the best time to visit Iceland, simply because we love our holiday with everything that comes with it.
So, this is Christmas
This Sunday, the 2nd of December marks the first Sunday of the Advent. We celebrate the four Sundays before Christmas and many Icelanders have certain traditions on the first Sunday of the Advent. Many bake Christmas cookies, others decorate their houses and surroundings, while some try to finish all the Christmas shopping. Another tradition is going down town to watch when the Christmas lights are lit on the Oslo Tree (Oslóartréð) at Austurvöllur, right by Althingi, the Icelandic parliament. The tree is lit at 4 PM and you can expect huge crowds if you decided to check it out. I recommend it whole heartedly!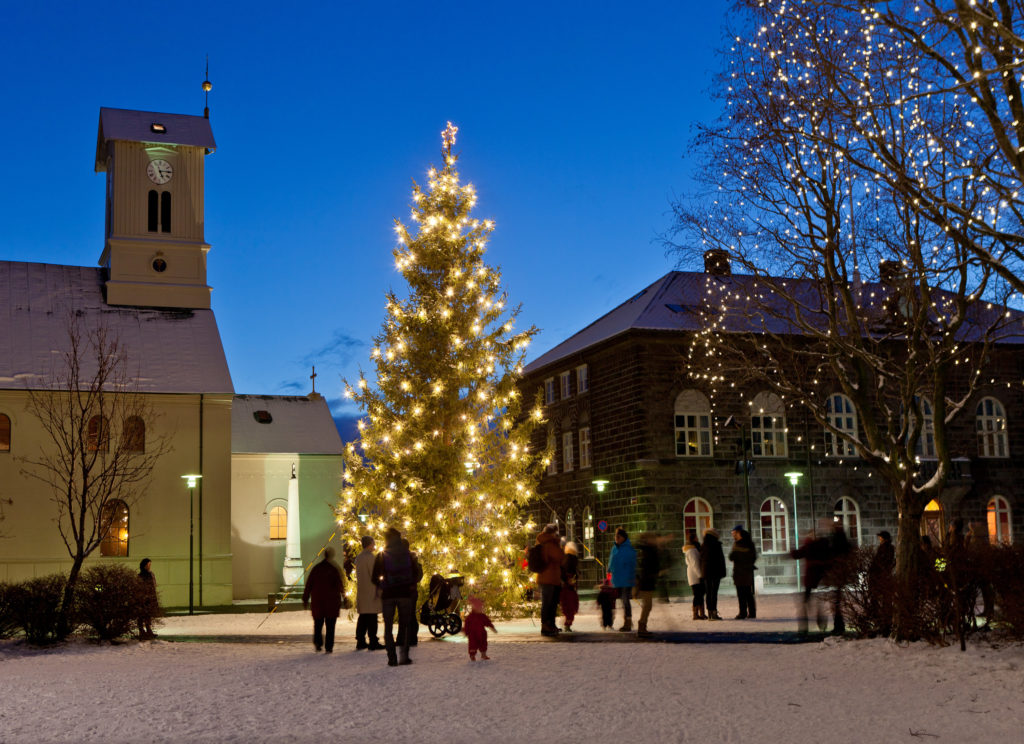 Then on the 23rd of December we have Þorláksmessa, which is our night before Christmas. Shops are usually open almost until midnight and many who live in the capital area go down town and walk the main shopping street Laugavegur, to do some shopping, have some drinks, hot or cold, and meet up with friends and family. Many Icelanders also use this night to decorate the Christmas tree in their own houses. Then there are those that decide to get shit-faced. So, if you're looking for a party, you will definitely find it on the 23rd.
Aðfangadagur on the 24th of December is our Christmas Day. Christmas officially starts at 6 PM when the church bells ring. Then you will either find Icelanders at home in their finest of clothing, sitting down to a lovely festive meal, or at mass in their church. Later in the evening, we get to open up all our Christmas presents and stay up until we pass out because of all the food and candy we've eaten. In olden days, it was not allowed to play cards during this evening, but today it's a tradition for many natives to stay up, play cards or board games and have a jolly good time.
The 25th of December is Jóladagur, which means Christmas Day. And the 26th is Annar í jólum, the second day of Christmas. Those two days are usually filled with big family gatherings and loads and loads of food.
Our lovely Yule Lads
And we can't talk about Christmas without mentioning our thirteen Yule Lads. Yep, we don't have just one Santa Claus but thirteen! And they all give us presents!
There is a tradition with Icelandic children that they put their shoe, any shoe will do, in their window on the evening of the 11th of December. If they behave they can expect to find a present in the shoe on the morning of the 12th of December, and on each morning until the 24th of December. This is a change from olden days when the Yule Lads used to terrorize families in different way. Their mother is Grýla and she was even worse. She used to steal children and eat them up, with assistance from her awful pet, the Yule Cat. Still today we have the belief that you have to wear at least one piece of new, unused clothing on Christmas so the Yule Cat won't eat you. We are quite horrible with our Christmas traditions, aren't we?
Ok, so that's our important Christmas days. I'll get to the New Year's Eve celebrations a little bit later.
The shortest day of the year
Winter is fully here in Iceland in December, but it's not only cold but also extremely dark – which means the Christmas lights are so majestic. The winter solstice is celebrated on the 21st of December, which is the shortest day of the year with only a few hours of daylight. If we look at December as a whole, the sun usually comes up between 10.45 and 11.20 AM and sets somewhere between 3.30 and 3.45 PM. Yeah, I wasn't lying when I said that it was extremely dark!
The average temperature in Iceland in December is between -1°C and 4°C (34° and 39°F) but it's also one of the wettest month of the year. You can also expect some snowfall, more so in the country side than in the capital are. I, personally, always wish for a white Christmas for obvious reasons. I mean, it's Christmas after all!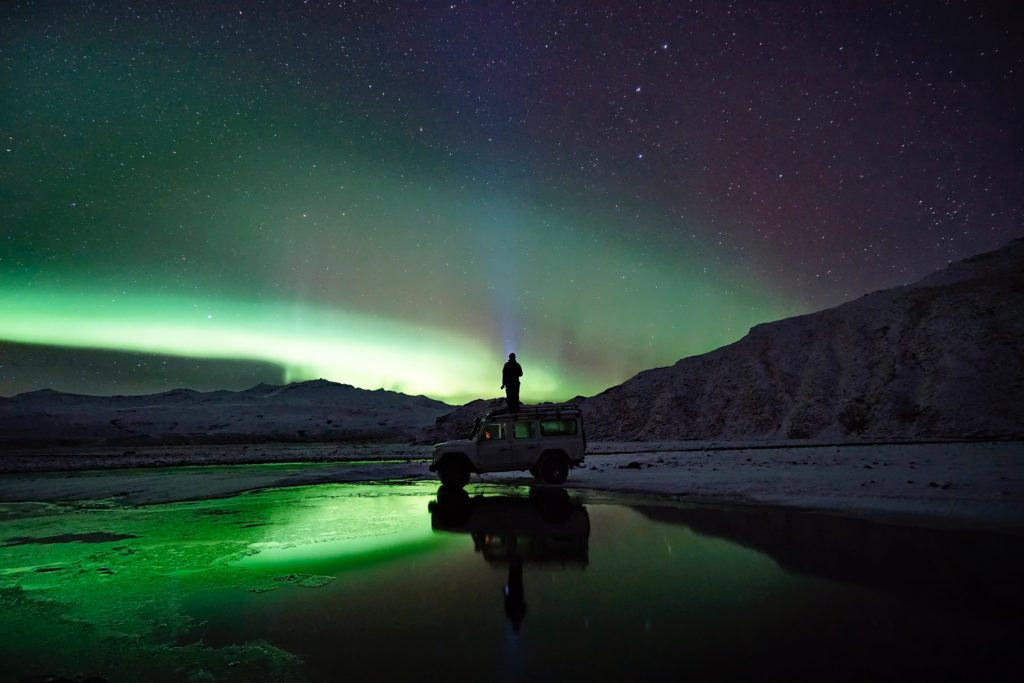 Since it can get much colder than -1°C, sometimes down to -15°-18°C, pack warm clothes. As I've said before, pack layers, a good winter coat, sturdy and warm boots, gloves, woolen socks and a hat. Also think about rainproof wear since we get quite a lot of rain in December. And because of the uncertainty whether it will be rain, sleet, snow, hail or whatever comes our way, be prepared for anything and everything. Click here to stay updated on the weather and here to update yourself on road conditions. Some roads are closed during December and sometimes parts of the ring road can also be closed because of the weather.
And remember, because of the endless darkness, you have a great chance of spotting the northern lights, wether it be on your own or on a tour.
Iceland in December – the tour section
If you don't feel comfortable driving in Iceland in December, you can choose from an array of tours. Here's a short list of tours that I recommend in the winter, even though daylight has forsaken us.
The Snæfellsnes Peninsula Tour
An Ice Cave Tour in Vatnajökull Glacier
Snorkeling in Silfra and horseback riding
Ice skating plaza and a Christmas village
Even though the country lights up when Christmas gets near, you can expect some shops, swimming pools, museums, restaurants and other places having limited opening hours when Christmas starts. I recommend you check out the Visit Reykjavík's website for information on various opening hours.
If you are staying in the capital area, I highly recommend you visit the Christmas village in Hafnarfjörður, which opens on the 1st of December at 6 PM. There you will find a little piece of heaven for Christmas lovers, various entertainment and Christmas goodies for sale. Árbæjarsafn open air museum is also a great place to visit to get into the Christmas spirit.
Another lovely part of Christmas is the ice skating plaza on Ingólftorg in the heart of down town Reykjavík. The plaza opens at 7 PM on the 1st of December and will be open every day from 12 PM to 10 PM until the 23rd of December.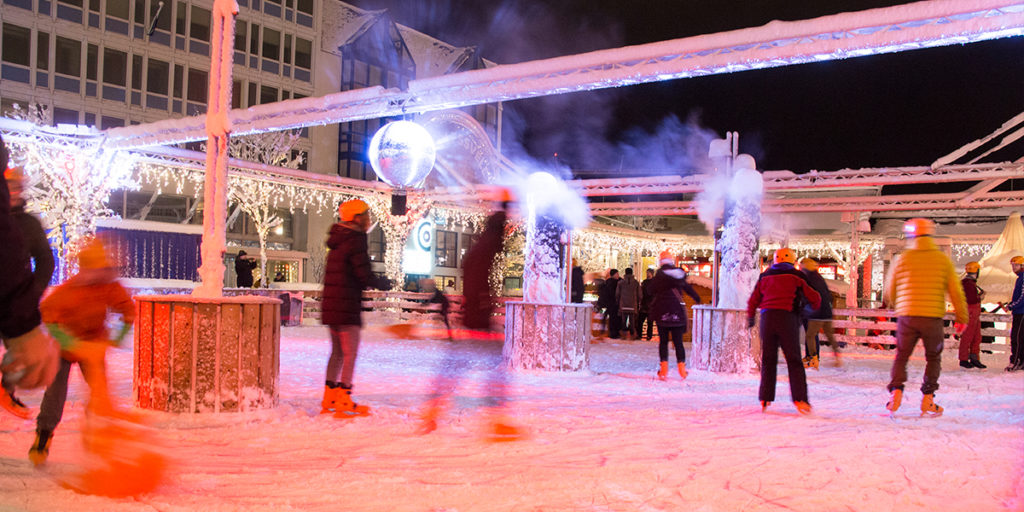 Here come the fireworks
And I promised I would get to the New Year's Eve celebrations in Iceland and I'm a woman of my word. I just love New Year's Eve in Iceland, especially in Reykjavík. Usually everyone eats good, festive food with their families in the evening and later they all sit down in the living room and watch the annual comedy show Áramótaskaupið, which basically makes fun of the events of the year. Then, right before midnight, everyone dresses in their warmest clothes and goes out to watch the fireworks, which are quite spectacular. Some also visit bonfires after dinner and before the comedy show. If you are staying in the capital area, you can find a list of bonfire locations at Visit Reykjavík's website.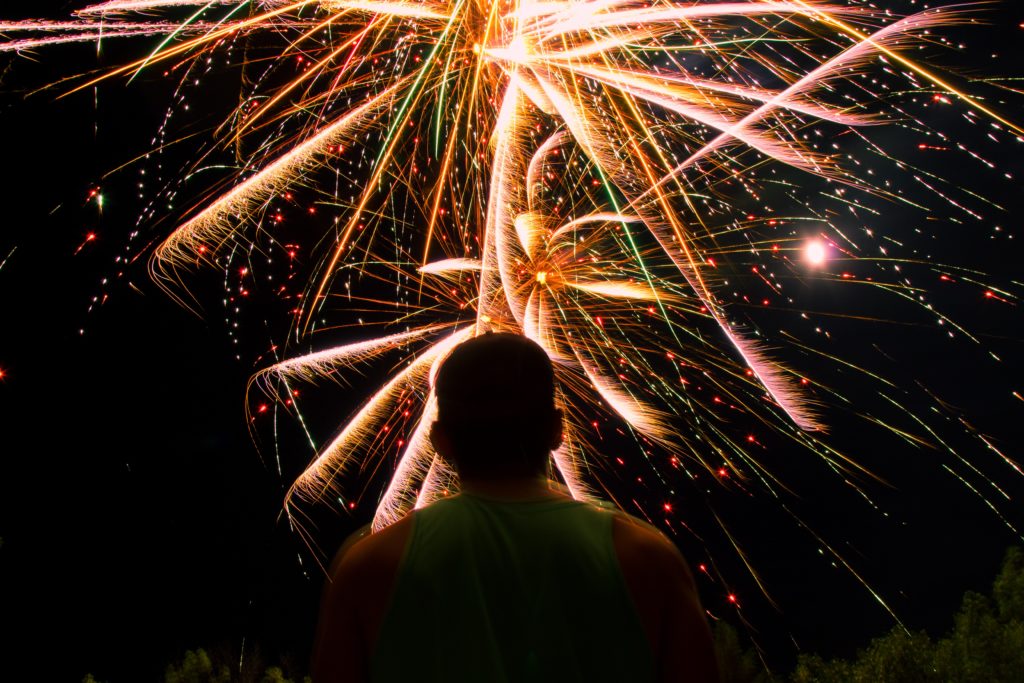 As to fireworks, I'm a huge fan of watching the light party at Hallgrímskirkja church in down town Reykjavík. It's truly amazing. You can also travel to the higher parts of the city, such as Breiðholt, where there is an exceptional view of the city by the gas station at Suðurfell.
First race, then party
And then the party begins! Icelanders party until the next day to say goodbye to the old year and welcome the new. You will find various New Year's parties all around town, as well as in the country side. Usually you have to pay a few thousand ISK to get in, but you can find places that have free admittance if you search hard enough. I should also add that taxis are much more expensive during the holidays so you could end up paying a bundle to get from A to B. In addition to that, you could have to wait in long lines to just get a taxi on New Year's Eve, so it's truly important to dress warmly. And if New Year's Eve is not your thing, you can also find some parties on the 1st of January around town.
If you want to say farewell to the year with a good, old fashioned run, I recommend you check out ÍR's New Year's Eve Run which starts at 12 PM. It's not only good for your health, but will also make you laugh since some choose to dress up for the race. You can choose to run 3 kilometers or 10 kilometers.
I could go on an on about all the things you can do in Iceland in December but the most important thing is just to enjoy the festive spirit, have fun with the people you love and be kind to one another.