Posted on
Thursday, January 4, 2018
All you superhero movie fans out there must have already gone to see the new DC Comics installment Justice League. Well, did you know that Iceland actually plays a big part in the movie?
Justice League centers around Bruce Wayne's efforts to recruit superheroes to save the planet from great enemies. I won't go into details, since I don't want to spoil the movie for you, but if you haven't seen it, I suggest you do. It's pretty kick ass.
One of the super heroes that Bruce, aka Batman, wants on his team is Aquaman, portrayed by Jason Momoa. He lives somewhere "out north" and I'll give you three guesses where this place in the north is. Yep, that's right – Iceland! More specifically Djúpavík, which is located in an area called Strandir on the Westfjords of Iceland.
The only hotel in the village
Djúpavík is a part of the Árneshreppur municipality, with only around 53 inhabitants. With that said, because of its isolation, the drive from the capital area to Djúpavík is one of the most scenic drives you can ever take. There is one hotel in the small village of Djúpavík, Hótel Djúpavík, and of course that's where the stars of Justice League went to bed every night while filming in the Westfjords in autumn 2016. I bet the hotel managers have quite some stories to tell!
The hotel is open all year round. However, if you decide to drive to Djúpavík I recommend you check the road conditions before hand. Road #643 to the village can be closed.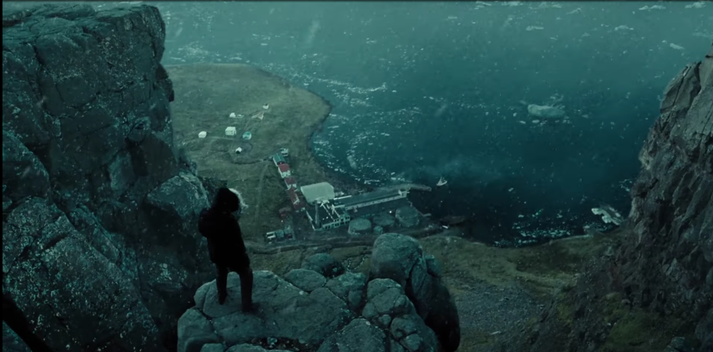 Aquaman is Icelandic
There is an iconic shot in Justice League, which you can see in the photo above, where Bruce Waynes stands on top of a cliff, admiring Aquaman's home town. There he is overlooking Djúpavík, standing on top of a waterfall called Djúpavíkurfoss.
I must also tell you about the scene when Bruce Wayne first arrives in Djúpavík, to track Aquaman down. Well, in that scene, the aforementioned Bruce meets with the mayor, which is played by Icelandic superstar Ingvar E. Sigurðsson. The mayor talks to Bruce in Icelandic in the trailer but what we can't see is Aquaman also talking some Icelandic. Look out for that in the movie.
A fun fact is that Ingvar actually taught Jason Momoa Icelandic on set and via Skype. Jason had a special Icelandic tutor in addition to that. Ingvar has said in interviews in Icelandic media that Jason was a really nice guy who really made the effort to learn Icelandic. So much so, that Ben Affleck, who plays Batman, begged to speak some Icelandic in the movie as well!
Below you can see the scene in question:
Game of Thrones hunk in trouble
It wasn't all fun and games for Jason Momoa on set in Iceland. He actually got into some trouble while bathing in the natural pool at Gjögur, some twenty minutes away from Djúpavík. The owner of the pool was far from happy with the Game of Thrones star and told Icelandic media that Jason had no permission to bathe in the pool. He added that a sign by the pool states in both English and Icelandic that those who do not have permission cannot bathe in the pool. Let that be a lesson learned for all of you.
Here's a photo that Jason posted of himself bathing in the famous pool:
He also posted some amazing shots of Iceland which didn't get him into trouble:
In short: Djúpavík is a real star in Justice League and you should definitely pay this remote and isolated village a visit if pure, natural beauty and peace and quiet is your thing.
Distance from Reykjavík: 294 kilometers – around 4 and a half hours drive
How to get there: You can either drive or book a flight with Ernir airline. A return flight will cost you around 40.000 – 50.000 ISK.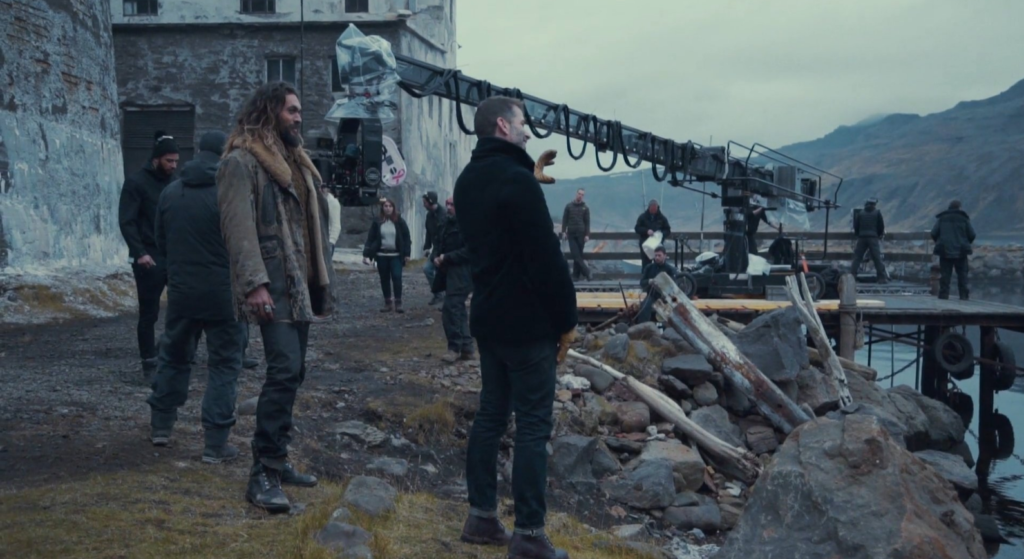 650 kilometers apart
Another beautiful place featured in Justice League is Fjallsjökull glacier, an outlet glacier of Öræfajökull glacier. Fjallsjökull is located in Vatnajökull National Park, not far from Skaftafell.
Fjallsjökull and its surroundings play the part of the moor that Bruce Wayne has to travel across before reaching Aquaman's home town. The funny thing is that Fjallsjökull is actually located in southeast Iceland, while Djúpavík is on the other side of the country in the Westfjords. The two places are actually some 650 kilometers apart and it would take you around 9 hours to drive from one to the other without any stops and in perfect conditions. But of course anything is possible in the movies!
Distance from Reykjavík: 363 kilometers – around 4 and a half hours drive
How to get there: Just drive and enjoy the south coast.
And if you're not sure whether you should pay Iceland a visit, just watch this trailer where Iceland really shines. See you soon!