Posted on
Wednesday, February 8, 2017
You can shop more than just puffin teddy bears and lava keychains in Iceland. I'm not big on souvenirs but I really like finding authentic design in the countries I visit – something that will last me a while.

Which brings me to the reason why I urge travelers in Iceland to take a look at iglo+indi while they're here. The reason is simple: I absolutely love this brand!
iglo+indi is an Icelandic children's wear brand founded in 2008 by fashion designer Helga Ólafsdóttir. There are two iglo+indi shops in Iceland: one in Smáralind mall in Kópvogur and the other one on Skólavörðustígur in down town Reykjavík. You can also find their products in over 100 stores world wide so if you don't get a chance to shop in Iceland, you might be able to spend some money on these lovely, Icelandic products back home.
The thing that I like the most about iglo+indi products is the quality. The products are not pricey, not on the Icelandic scale at least, and they last almost a lifetime. I've bought several pieces for my children and they can't seem to wear them out. The fabrics are soft and organic so my kids never feel uncomfortable wearing iglo+indi.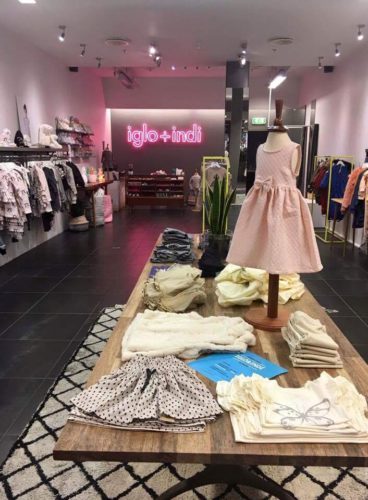 Another thing I like is the unique prints and cool colors they use. The pieces really stand out and it doesn't seem to matter what I buy, my children love every single thing. And if you're parents, you know how picky kids can get!
I hope you get the chance to visit one of the iglo+indi shops in Iceland because the décor is so beautiful. It's almost like walking into a fairytale. And the staff is always super friendly and eager to help – that can be a bit hard to find nowadays. And if you can't find time for shopping you can always check out their website and feast your eyes on the skillfully made pieces.