Posted on
Thursday, August 24, 2017
We at Must See in Iceland are always after the best deals, both for locals and tourists, and that is why we now introduce our very own price check in Icelandic supermarkets, something we will perform every two months or so.
We decided to visit Icelandic supermarkets in the Reykjavík area and price check 11 products that are stables in the fridge and pantry. Products that are both good on the road or in the comfort of your, or somebody else's, home.
The price check execution
We visited 11 supermarkets in the capital area and checked the shelf price of 11 different products. We did not buy any products and solely checked the shelf price of each product. The products that we checked were not on offer in any store. If that would've been the case, we of course would have taken that into account.
We chose products that are likely to be sold in most stores and that will be sold for many months to come, so we can price check them again every two months. We performed the price check on Tuesday 22nd of August and Wednesday 23rd of August 2017. During the price check we visited the following Icelandic supermarkets:
Kostur, Dalvegur 10, Kópavogur
Nóatún, Háaleitisbraut 68, Reykjavík
Fjarðarkaup, Hólshraun 1b, Hafnarfjörður
Krónan, Flatahraun 13, Hafnarfjörður
Bónus, Holtagarðar, Reykjavík
Samkaup Strax, Hófgerði 30, Kópavogur
Nettó, Mjódd, Reykjavík
Víðir, Skeifan 11d, Reykjavík
10-11, Lágmúli 7, Reykjavík
Iceland, Engihjalli 8, Kópavogur
Hagkaup, Skeifan 15, Reykjavík
The price check products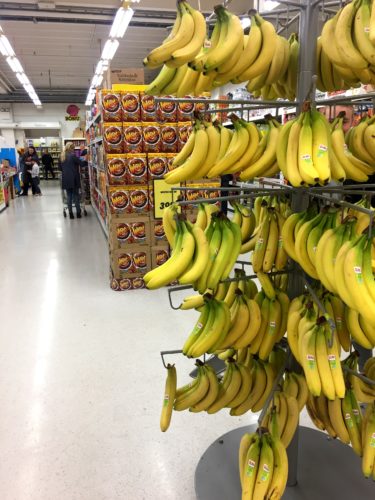 The products that we chose for the price check were the following:
MS Butter 400g
KEA Vanilla Skyr 200g
MS Whole Milk 1L
Oreo Original 154g
Bananas
Can of Pepsi 0,5L
10 SS Hot Dogs
Knorr Cup a Soup Thai Curry Chicken 3 pack
Lífskorn Bread from Myllan 450g
Bag of Þristur Candy 250g
Cheerios Cereal 340g
So, are you ready to read the results? Because they are somewhat shocking. You can actually save quite a few ISK if you shop at the "right" Icelandic supermarkets, but you probably knew that already.
10-11 the most expensive store
Above you can see the whole price check, but I'm going to break it down for you. The store with the highest price is undoubtably 10-11, having the highest price of 10 out of 11 products. Samkaup ruins the "perfect" score for 10-11, winning one category and tying with 10-11 in one. The store that has the most of the lowest priced products is Bónus with 4 out of 11. Kostur has 3 of 11 and Víðir and Fjarðarkaup each have 2 out of 11.
61.8% difference on milk
Let's start the run-down with the Icelandic butter, or Smjör, which is good as a bread spread, for cooking or baking. Víðir offers the 400g box for 338 ISK, which is the lowest price of the 11 stores. The highest price is 569 ISK at 10-11. The price difference? 41.9%
Skyr is a national dish adored by many, both locals and tourists. A 200g box of vanilla flavored Skyr from KEA will cost you 178 ISK at Kostur, which is the lowest price, but 279 ISK at 10-11, that being a price difference of 44.2%
The lowest price of a 1 liter carton of whole milk from MS that we found was 142 ISK at Kostur, with 10-11 offering the liter for 269 ISK. That's a whopping price difference of 61.8%
Almost 120% price difference on a can of Pepsi
We also decided to price check a 154g pack of Oreo Original Vanilla biscuits. Three stores did not carry that specific packaging, Krónan, Kostur and Nóatún. The cheapest pack of the cookies was at Bónus for 139 ISK. The most expensive one was found at 10-11 and Samkaup for 249 ISK. 56.7% price difference thank you very much!
As for bananas, the healthy snack on the go, the price difference between the cheapest ones per kilo and the most expensive ones was almost 77%. The cheapest bananas were at Víðir for 189 ISK per kilo and the most expensive ones at Samkaup for 425 ISK per kilo.
For all you soda lovers out there, we thought we'd check the price of a 0,5 liter can of Pepsi. 4 stores did not sell that amount in cans and only offered 33cl ones or 0,5 liter Pepsi in plastic bottles. Those stores are Krónan, Bónus, Kostur and Nóatún and are not included in the Pepsi price check. The price difference between the cheapest and most expensive can of Pepsi is beyond shocking – nearly 120%. The cheapest one is at Fjarðarkaup and will cost you 88 ISK. The most expensive one is yet again at 10-11 and will cost you 349 ISK. Probably made with holy water that Pepsi!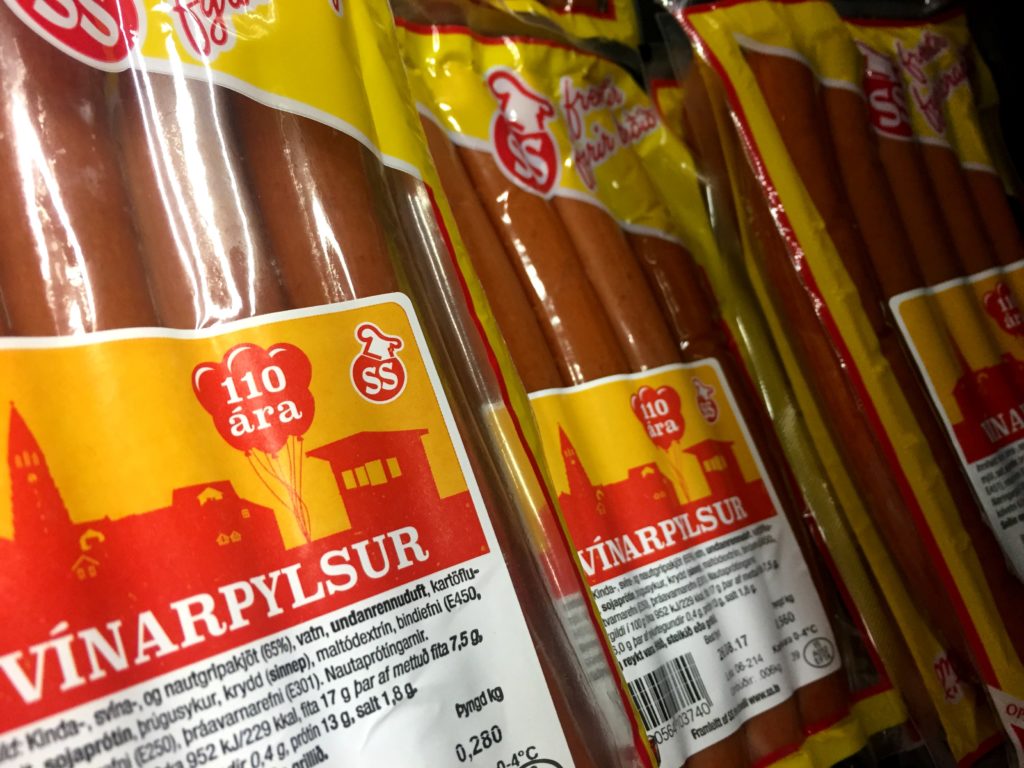 Get your hot dogs at Kostur
Now for the national dish that Icelanders love to bits – the Icelandic hot dog! You can get hot dogs at every Icelandic supermarket, that I can guarantee. We price checked a 10 pack of SS hot dogs and 10-11 takes the cake with the highest price of 1.129 ISK. The lowest price can be found at Kostur – 749 ISK. The price difference here is 40.47%.
We also decided to price check a 3 pack of Thai Curry Chicken Cup a Soup from Knorr, for those of you camping around Iceland. They are cheapest at Bónus for 239 ISK. And yet again 10-11 has the highest price of 469 ISK, with the price difference being almost 65%.
It's good to have bread around the house so we price checked one of the healthier options, Lífskorn bread from Myllan. It's a pricy bread, costing 357 ISK at Bónus but 599 ISK at 10-11. A price difference of 50.6%.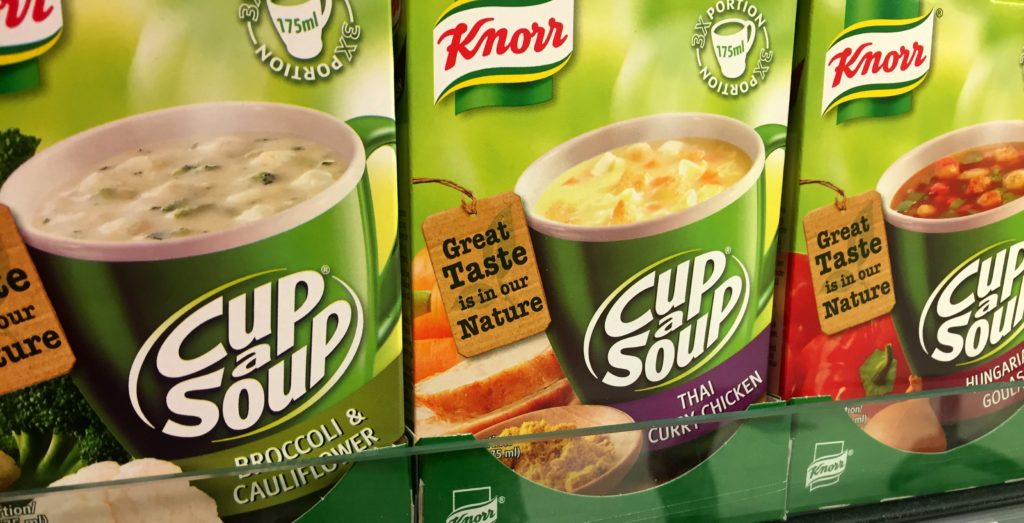 Go to Bónus for candy
Þristur is a legendary, Icelandic candy which I urge you to try. It's fudge heaven, adorned with some glorious licorice bits. So hard to resist! But don't just go anywhere when shopping for Þristur. Go to Bónus which offers the lowest price of 329 ISK. Don't go to 10-11 which sells a 250g bag of Þristur for a whopping 799 ISK! That's a 83.3% price difference on candy at Icelandic supermarkets!
Last but not least we have the famous oat cereal Cheerios. We decided to price check a 340g pack, but Krónan, Bónus, Kostur and Iceland did not sell that amount of Cheerios, only bigger packages. That's why we leave them out for now. The cheapest bag of Cheerios is at Fjarðarkaup for 398 ISK. The most expensive one will set you back 749 ISK and is sold at, you guessed it, 10-11. The Cheerios price difference is 61.2%.
I hope this little price check of ours has been a little bit helpful on your travels in Iceland. At least I can always back up my words when I say that 10-11 is the most ridiculously overpriced supermarket in Iceland!