Posted on
Monday, April 12, 2021
A volcanic eruption in the valley Geldingadalir on the Reykjanes Peninsula in Iceland started on the night of the 19th of March, much to everyone's surprise. Scientists didn't even expect this natural force to break out of the earth's core, even though the neighboring town of Grindavík had been ridden with earthquakes for weeks.
So you could say that the volcano in Geldingadalir snuck up behind the whole nation and startled us good!
Just a few hours before the volcano in Geldingadalir reminded us of how majestic it truly is, a geophysicist even came on live television and declared that chances of a volcanic eruption were slim to none. It's safe to say that he has been the receptor of lots of jokes, memes and Twitter puns.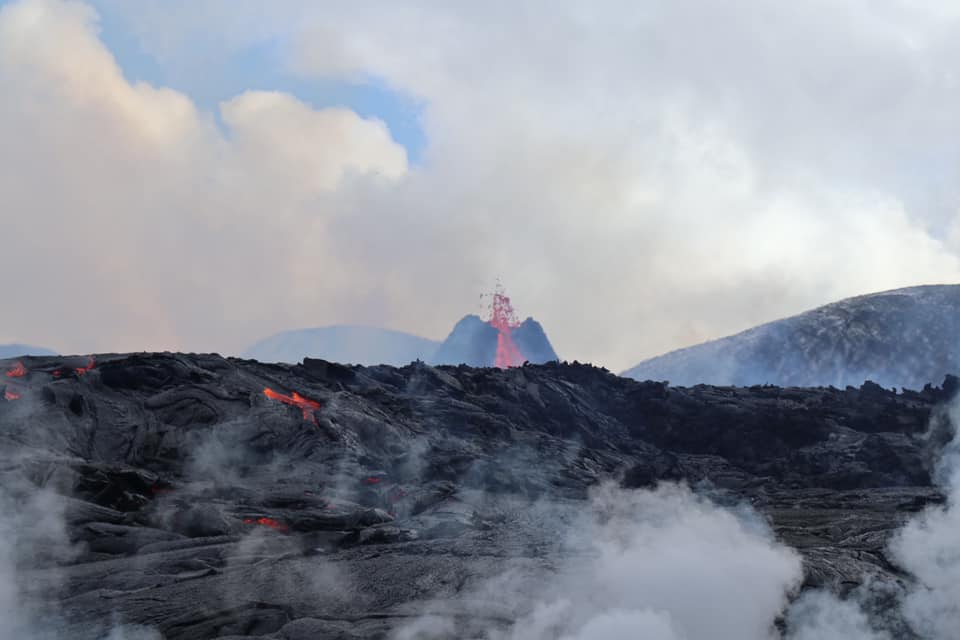 Soon after the eruption started, another scientist, a geologist this time, declared that the volcano in Geldingadalir was a bit of a wimp ("ræfill" in Icelandic) because it was the smallest eruption in Iceland during the last decades. But Icelanders didn't listen to the negative voices. They needed something to talk about. Something amazing and mesmerizing to witness after more than a year of COVID restrictions. So, they hiked. Hiked to this magical place by the thousands. When this is written, a little under a month since the eruption started, about 50 thousand people have travelled through a very challenging terrain to see the eruption with their bare eyes. Not so wimpy now, hey?
Unique occurence
It doesn't happen often that a volcanic eruption is so accessible. Geldingadalir belongs to a vast land which is privately owned. It's actually very rare that an eruption happens on private land. It has occurred only a handful of times. Click here to visit the newly opened website Volcano in Iceland with some basic info about how to get there and what to bring.
So, even though the volcano in Geldingadalir is what some would call wimpy, it is quite special and unique. It started with one fissure opening, spewing molten lava into the valley, creating a beautiful display of fire and ice for onlookers. Today there are four fissures in total, adding to the magnitude of lava flowing around the rough terrain in the valley. 
But how do you get there?
Well, if you're traveling to Iceland from another country you first have to finish your COVID quarantine of five days before visiting the volcano in Geldingadalir. Be mindful and don't cheat, please. Then you have to make your way to Suðurstrandarvegur, road 427. The drive from Reykjavík is around 45 minutes. It's forbidden to park along the road but there are designated parking areas about one kilometer east of the start of the hike. Hikers then have to walk from the parking area to the hiking trails so added time for the hike is around 40 minutes. There's also an option to park your car in the town of Grindavík, pay a small fee for a bus that drives to the start of the hiking trail and take it from there. It's forbidden to drive all the way up to the eruption site. This applies to all motor vehicles, such as ATVs, six-wheelers, motorcycles.
Click here to see a map of bus stops in Grindavík. The bus stops are marked with orange and parking lots in Grindavík are marked with blue.
The hike up to the volcano in Geldingadalir is quite challenging, leading through lava fields, gravel and uneven ground. Some parts of the hike are steep and the elevation gain is approximately 200 meters.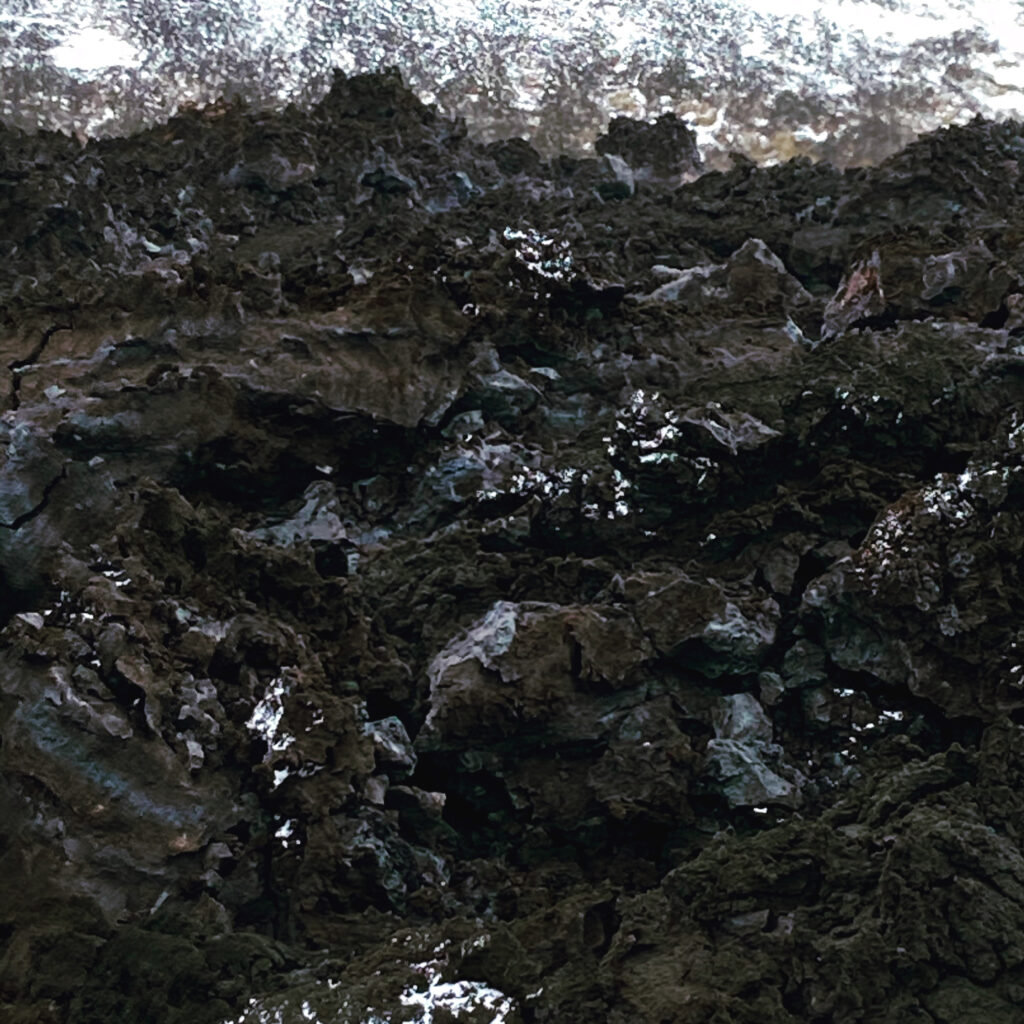 There are two marked trails that lead up to the volcanic eruption. The lower trail is shorter, about four kilometers each way. That trail has one extremely steep slop with a rope to hold onto. For somewhat experienced hikers the return trip takes around two to three hours. For people that are not used to hiking the return trip should take somewhere between four and six hours.
Click here for a GPS track of the shorter route.
The upper trail is a little more than four kilometers with one very steep slope with a rope to hold onto. For somewhat experienced hikers the return trip takes around two to three hours. For people that are not used to hiking the return trip should take somewhere between four and six hours.
Click here for a GPS track of the longer route.
Click here for a map of both trails.
Click here to download a map with the trails for your mobile.
The trails can change without warning if authorities deem them unsafe. Stay updated on the latest news of the eruption at Safe Travel.
In theory, anyone can hike up to the eruption site. However, it's a very challenging hike and the weather can change rapidly. Be prepared for the hike to take longer than you planned and make sure to bring a lot of water and snacks.
But what else should I bring?
Oh, so good you asked because preparation for this hike is key! The Reykjanes Peninsula is a true natural gem, a Geopark and the only place in the world where the Mid-Atlantic Ridge is visible above sea level. The landscape is somewhat reminiscent of the moon with its tuff mountains, hyaloclastite ridges, several series of craters, moss and lava stacks. The terrain is therefore challenging and important for hikers to Geldingadalir volcanic eruption to be well equipped for the hike.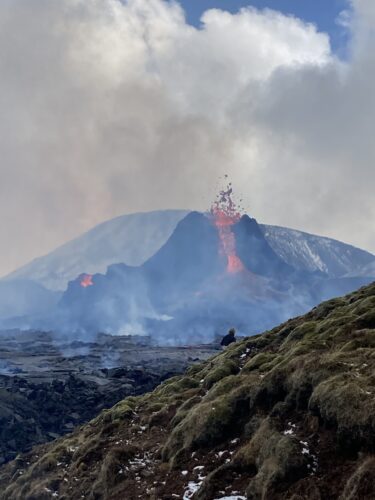 Clothing
Hiking shoes
Soft and comfortable hiking socks
Spikes for hiking shoes if the temperature goes below 0°C
Wool or fleece underwear
Wool or fleece sweater
Rain and wind proof outerwear
Warm hat
Mittens
Leg warmers
In the backpack
A packed lunch for the whole day
Snacks, such as dried fruit, chocolate and nuts
Water bottle
Thermos with hot chocolate, tea and coffee
Walking sticks
Camera
Powerbank
Binoculars
First aid kit
Pain killers
Napkins
Headlamp
Plastic bag for waste
The most important thing to bring is however the right state of mind. Be respectful of nature, don't litter and don't do anything stupid or dangerous. The weather can change quite quickly so be prepared for everything and anything. Enjoy the moment, take in every minute of this unforgettable experience and smile.
Read more about the Reykjanes Peninsula:
You have to tick Reykjanes Peninsula off your bucket list – it's that amazing
Beware of gas pollution
The area closes each night at 10PM and all hikers should be off the mountain no later than midnight. Therefore you may not camp and spend the night right besides the active volcano in Geldingadalir. That's not only because of the danger of new fissures opening up or you getting swallowed by lava. The gas pollution is also very dangerous. Gas pollution is not visible and cannot be detected by scent. Gas can disperse from the smoke cloud and pollution can increase rapidly in an area. Gas pollution is strongest close to the area and can lurk in valleys and dells where it is particularly dangerous. People must always turn downwind. This means that people must have the wind in their back when walking towards the eruption site and go against the wind when walking back. Gas pollution is not visible and does not necessarily follow the visible gas cloud in the area. If you experience the slightest symptoms of health problems, you should immediately leave the area with the wind against you. Gas pollution can be odorless and it is, therefore, difficult avoid it. To be completely safe you should bring a gas mask and gas meter.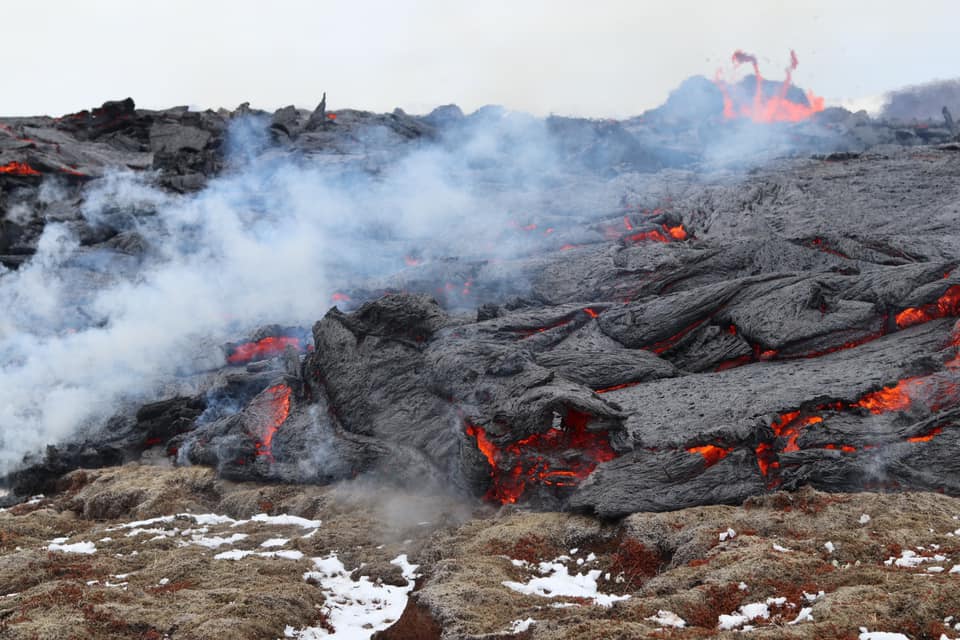 ICE-SAR, the Icelandic search and rescue team, and the Icelandic police have been on stand by at the site since the eruption started. Luckily no one has been seriously injured. If you need emergency assistance you should try to find a member of ICE-SAR or the police. If you can't find a member of ICE-SAR or the police on site try contacting 112, the emergency phone line. Click here to read more about how you stay safe in Iceland.
We urge you to go witness this unique place because it truly is a once in a lifetime experience. Be prepared, be careful, stay safe. Don't walk on the lava, don't throw stuff in the lava, don't be an asshole. Respect this beautiful natural phenomenon, be mindful of your surroundings and stay in the moment. Oh, and don't forget to have some fun!
***
If you can't hike up to the volcano in Geldingadalir you can watch it live here. If you're in the capital area of Reykjavík you can see a glow from the volcano at night.