Posted on
Sunday, January 1, 2017
It may not be the fanciest swimming pool in Reykjavík but the hot tubs there are to die for. They also have a magnificent sauna and the best jacuzzi in all of Iceland!
In Breiðholt swimming pool you will also most definitely meet the locals and you can spark up a conversation about almost everything – they are sure to have a strong opinion about it.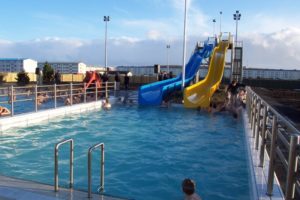 The kids can also enjoy themselves in the slides and kiddie's pools and I guarantee you won't be disappointed by the laid back atmosphere in this lovely pool
How to get there?
The pool is located at Austurberg 3 so just instruct your taxi driver to take you there.
If you opt for the bus, take number 3, 4, 12 or 17 and get off at Gerðuberg. You will not miss the swimming pool since it is attached to a big sport center and football field.