Posted on
Tuesday, October 29, 2019
You've probably heard that the world is Iceland crazy right now, and I for one am so thankful for that. Some plan their trips carefully and spend days, even weeks exploring my beautiful country. But some only have a few hours layover in Iceland. How should they spend it?
Layovers are tricky. It's hard to figure out how best to use your time, while making sure that you're not late to the airport and miss your flight. However, there are plenty of things to do if you have an 8 to 16 hours layover in Iceland.
Option 1 – Explore Reykjavík
Flybuses drive from Keflavík International Airport to down town Reykjavík 24/7, 365 days of the year. So getting from the airport is no hassle. You can book your transfer from the airport here and click here to book your transport from Reykjavík back to Keflavík. If you have a short layover, I suggest you stay in Reykjavík and do some exploring.
If you get in very early you could get yourself to Reykjavík and from there to Laxnes horse farm in Mosfellsbær. Enjoy a riding tour in perfect surroundings and get up close and personal with the Icelandic horse.
Asked to be dropped off somewhere central and join a whale watching tour in the hopes of seeing some whales. In any case, it's a fun day at sea.
Have a Bæjarins Beztu hot dog, or two, when you get off the boat and use the time you have left to see some of the main attractions in Reykjavík like Harpa Concert Hall, Hallgrímskirkja church, the Reykjavík pond and the old houses in the city center. Hop back on the flybus and promise to return on a later date with more time to spare.

Option 2 – Explore Reykjanes
Join a tour of Reykjanes peninsula, including a ticket to the Blue Lagoon. That will take up all your day but it will be well worth it. Reykjanes is so amazing, like I've written about.
If you're flying in and can't find a tour that fits, let me know and I'll try to figure something out. Just hit me up on mustsee@mustsee.is and I will try my very best to find a tour that suits your needs. Because you have to see Reykjanes peninsula!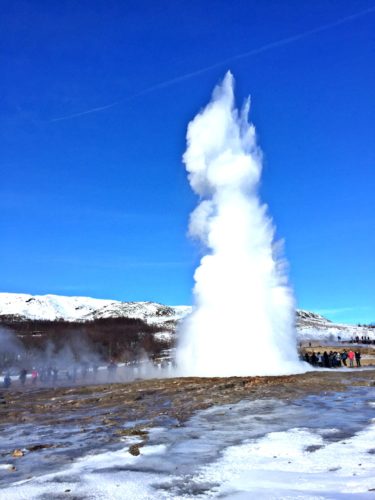 Option 3 – Do the Golden Circle
If you have limited time but you want to see some of the main highlights outside of Reykjavík, you can hop on a Golden Circle Express Tour. It only takes 6 hours but you get to soak up the majestical Gullfoss waterfall, be amazed at the sheer power of the Geysir area and wander around the historical treasure that is Þingvellir national park.
Who knows, maybe you'll have time to sit down for a lovely meal and beer tasting on the Cheers to Reykjavík Tour before you have to hop on a plane to your new destination.
Option 4 – Let me entertain you
Can't find what you're looking for in options 1 to 3? Then just write me an email with your desires and requests and I'll try to do my best to make all your dreams come true.
Option 5 – Sleep at the airport
NOT! Don't miss the opportunity of seeing just a little bit of Iceland. I bet you'll fall in love with it and want to return. Have a fun layover in Iceland!