Posted on
Saturday, January 26, 2019
February is here in all it's glory, which usually means unpredictable weather (duh – this is Iceland), snowy landscape and more sunlight. Iceland in February is definitely worth the visit and you can capture something quite magical on film, if you're into that sort of thing.
Let's kick our Iceland in February-summary off with the weather. Yeah, we really like to talk about the weather. Just visit any hot tub in a local swimming pool and you'll see! It's winter time still and the winter seems to go on forever. The end of January and the beginning of February I feel is the worst period during winter. It's so cold and so snowy and you just want to drop your life and stay snuggled under the covers.
Sure, the numbers don't say much. Numbers usually don't. The average low is -2.1°C (28.2°F) in Iceland in February and the average high is 2.8°C (37°F). But again, as we've mentioned countless times, we have that ocean breeze to dampen our mood, making Iceland way more cold than the thermometer says. Precipitation is also quite high in February, in any shape or form. Expect all sorts of types of snow or rain on your travels. There's a reason why Icelanders have endless words to describe the weather!
Picturesque stills
But of course we can also have sunshine and calm, lovely, beautiful winter weather. Picturesque stills with majestic snowflakes making their way to the ground. Now, that is beautiful. And quiet. And peaceful. Just stand there and let the snow immerse you with tranquility. It's a meditation like no other.
The good thing about Iceland in February is that the day is getting longer and longer. We gain a whole lot of minutes of sunlight this month, seeing that the sunrise is at 10.08 AM on February 1st and at 8.39 AM on the last day of the month. Hurray! But don't worry – you still have an excellent chance to see the northern lights!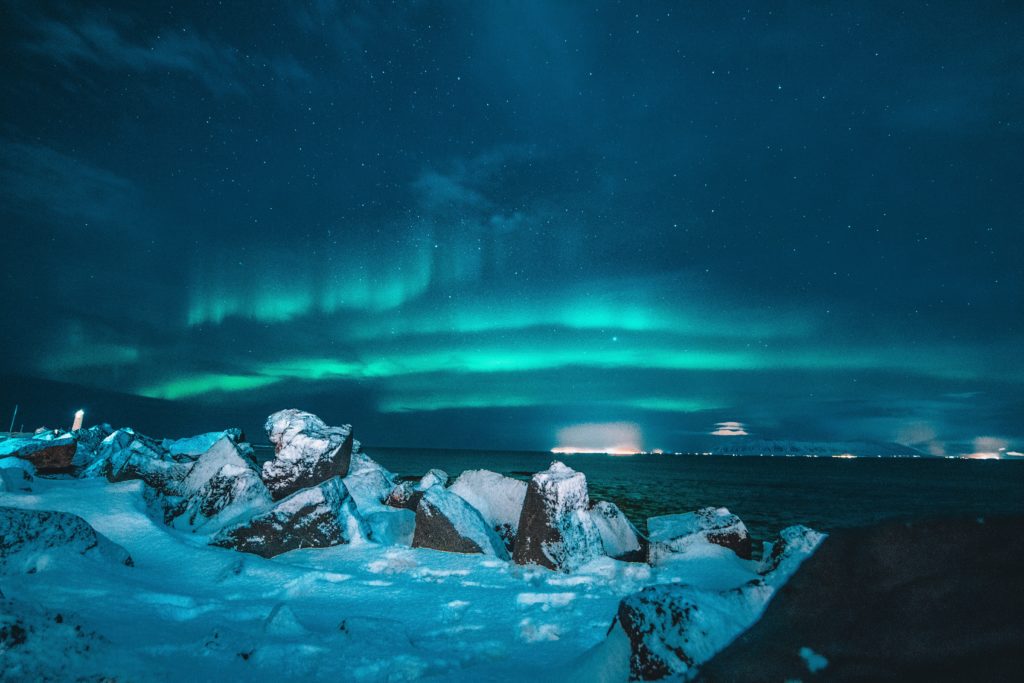 Be careful
So you'll have no problem traveling the country and seeing the sights, especially in the later days of the month. That's something to be thankful for since sitting in a car for hours in the darkness is not exactly my idea of a good time! But be careful! Because of the unpredictable weather teamed up with rough roads and a good chance of ice, you will have to have a well equipped car to take on the open road by yourself. Please stay updated on the weather forecast and the conditions of roads if you want to stay off the beaten tourist path. You'll thank me later for these words of wisdoms.
When in doubt, pack it
Which brings us to clothing. When in doubt, pack it. Think you don't need it? Pack it! Gloves, hats, scarfs, isolation clothes, woolen underwear, sunglasses (yep – the winter sun is strong in this one), sunscreen (I'm not playing around), rainproof outerwear, good socks and spirits (I mean your mood – not alcohol. Or maybe I mean both…). Just pack whatever will fight off the cold and nasty ocean breeze. We are an island after all! Oh, and don't forget boots. Sturdy winter boots that can tackle the rain, sleet, snow, ice, whatever you call it and keep you warm when you have to dig through endless of snow to get to your rental car.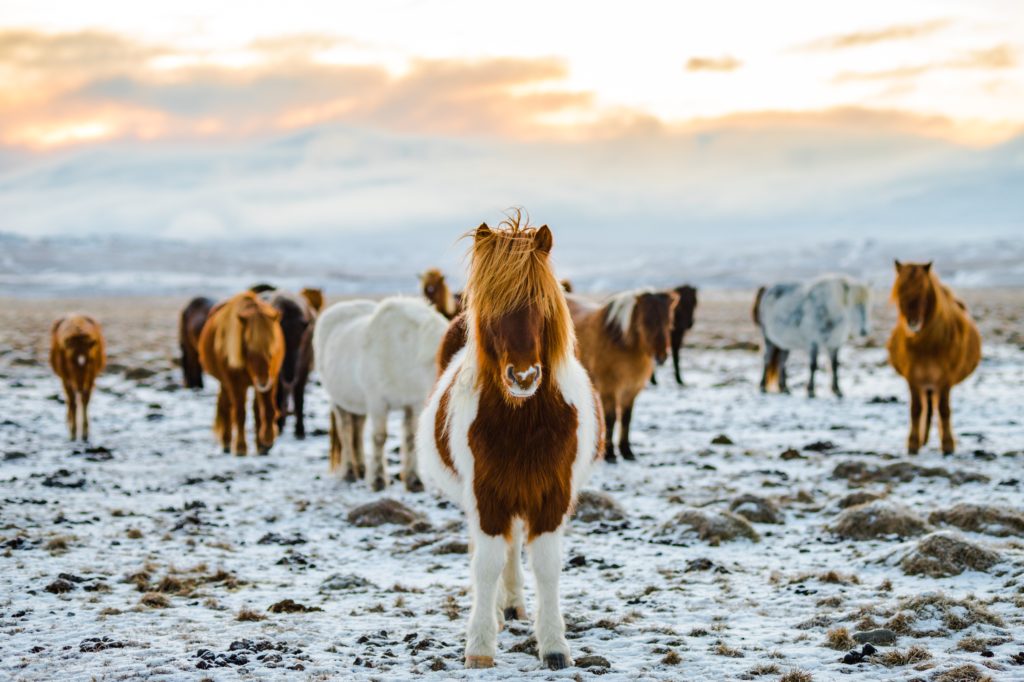 Frozen waterfalls
I feel like I'm scaring you a bit too much, but frankly – Iceland is so, so beautiful on a nice February day. If you visit Iceland in February you get the frozen waterfalls, the snowy landscape – a real winter wonderland on a good day. Also, horses tend to get very hairy during the winter so they don't freeze to death, so I highly recommend doing a horseback riding tour.
See also: Laxnes Horseback riding tour. Book here!
Popular tourist attractions like Þingvellir national park are just majestic in winter, and be sure to book a snorkeling tour at the park if you're not cold enough already. It might be freezing but to snorkel in Silfra fissure during winter is an experience like no other. Book the snorkeling tour now before you change your mind!
Of course you could also hike a glacier. That's a classic. Or visit an ice cave. Or even a lava cave. It's all fantastic! But one of my favorite things to do during winter is visit the Snæfellsnes peninsula. It's a lesser known tourist attractions so it's not as busy, but my God is it beautiful! Dramatic, breathtaking, dangerous and peaceful – all at the same time! Or you can just hang out at a local swimming pool. They're everywhere! And they're awesome! You can even go whale watching since quite a few whales don't migrate. Because they love us Icelanders! Hurray!
See also: Five places you should definitely visit on the Snæfellsnes peninsula.
Make the women in your life happy
If you want to check out some events then you could go to the Winter Lights Festival from the 7th to the 10th of February. It's an annual event which celebrates both the winter world and the growing light after a long period of darkness. It's pretty cool and takes place all over Reykjavík city.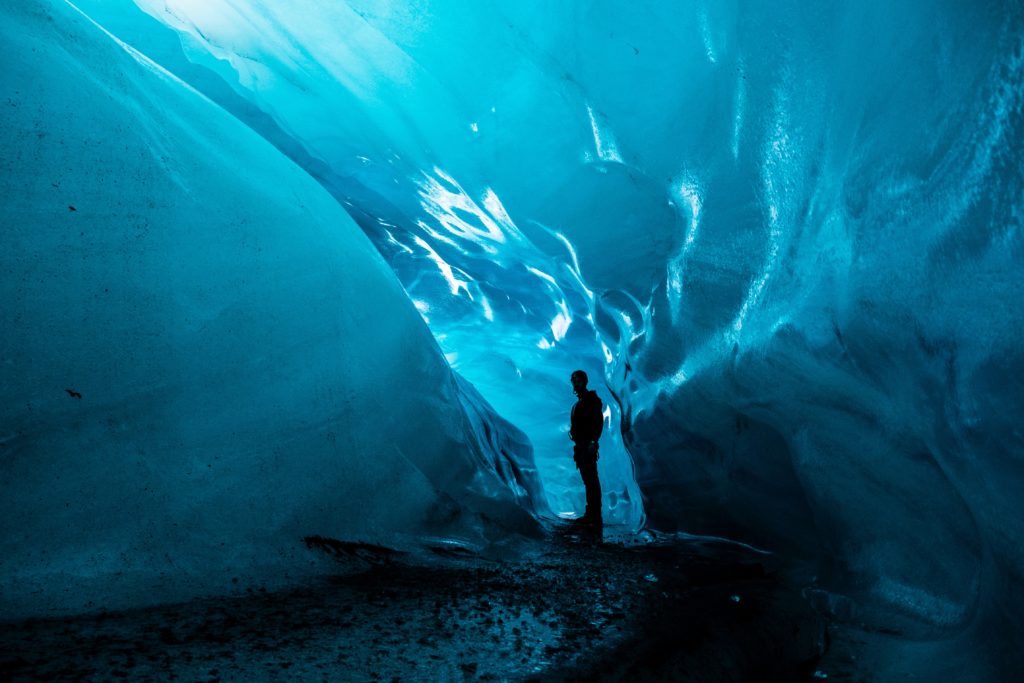 On the 24th of February you should make all the women in your life happy as well because that's Konudagur, or Women's Day. The tradition is that men give their wives flowers to celebrate the day but feel free to play around with tradition.
So, have fun in Iceland in February! It's quite amazing!