Posted on
Tuesday, April 18, 2017
"There are probably some out there that associate cabaret, burlesque and variety shows with something naughty. But we make sure that nudity is neither rude or degrading. We use it for gags, flirting, magic and charm," says entertainer Miss Mokki.
Miss Mokki is one of the talents that comprise the cabaret collective Reykjavík Kabarett. I sat down with Miss Mokki, along with a part of her talented crew, Lárus the Magician, Maísól the Magnificent, the Bearded Lady, Margrét Dungeon Master and Miss Encircled to talk about this relatively new art form in Iceland and their upcoming cabaret and variety shows in April and June.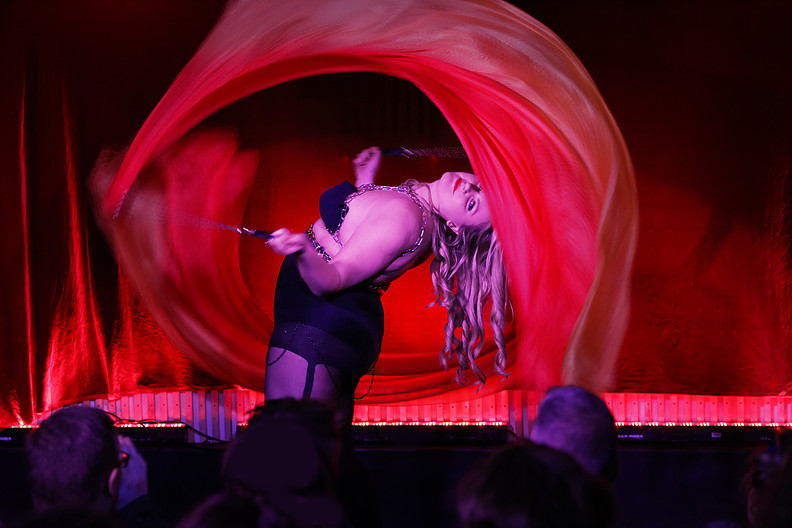 Everyone said yes to cabaret
Cabaret has been around since the 16th century, hailing originally from France, but Reykjavík Kabarett is the first, and only, cabaret collective in Iceland. How did this coalition of artists come about?
"The beginning of it all was when two burlesque performers from New York, who happen to be friends of mine, Dame Cuchifrita and Edie Nigthcrawler, contacted me because they were embarking on European tour. I decided to contact the circus Sirkus Íslands, a group I'm also a part of, because they have put on shows for adults. Unfortunately it was not possible to build a show around Dame and Edie so I got permission to make a little show of my own," says Miss Mokki. Next in her phonebook was Lárus the Magician.
"Miss Mokki contacted me and we then called all the people that we wanted work with and all of them said yes," Lárus says.
Cabaret can be weird, funny, sexy…
Cabaret shows can include all sorts of art forms, everything from stand-up comedy to musicals to complete nonsense. Today nine people make up Reykjavík Kabarett. Nine people that all have a burning passion for mixing various art forms, creating a show filled with humor and good old-fashioned fun.
"Cabaret is an incredibly liberal art form. It can basically be anything. It can be weird, funny, sexy, beautiful et cetera. That also means that we are performing pieces that are completely different from other shows in Iceland. And we're also doing stuff that people can't see anywhere else in the country," says Maísól the Magnificent, who is an educated clown. Miss Mokki, a well known dancer, DJ and TV star in Iceland, among other things, seconds that freedom is the allure of cabaret.
"There is so much freedom in creation. Every one of us has responsibility for our own acts, we hone it, make costumes and put the pieces together," says Miss Mokki and adds that the members of Reykjavík Kabarett work on their own acts individually and that the performance as a whole isn't born until days before the show.
"Cabaret is the perfect art form for people with a short attention span. A 3-5 minute act and then we're off to something completely different. We are all over the place, working on our bits individually and then right before the show we put the whole performance together. So, it's not like conventional theater work where everyone works together for a long period of time. Cabaret is such a good party and an outlet," says Miss Mokki, who hesitates for a moment when I ask for her definition of cabaret.
"That's a good and difficult question. There's room for everything within cabaret, except the traditional. There is some sort of magic that happens with an audience. A trust is formed between us and the audience, moments occur, the surprise laughter and the eye contact. Everyone is a part of the show and the mood that is set," she says. Maísól the Magnificent has no problem with the definition of this interesting art form.
"Cabaret is all of the above and so much more."
People want more, more, more
Reykjavík Kabarett will perform their show at Græna Herbergið (e. Green Room) on April 26th, 27th and 28th, at Rósenberg on June 1st, 15th, 22nd and 29th and at Kex (Gym&Tonic) on June 8th. What can the audience expect during the show?
"General brilliance and queerness!" says Miss Encircled with a grin on her face. But aren't Icelanders afraid of this new and mysterious happening?
"Icelanders have responded incredibly well to our shows! More-so than I had dared to hope," says Lárus the Magician and Miss Mokki agrees.
"Yes, we're usually sold out and people just want more, more, more." The Bearded Lady voices a similar opinion.
"People are obviously very excited to see something new and fun like the cabaret scene in Iceland. Our audiences have also been amazing so far and have played a huge part in making the nights so unique and entertaining," she says.
So, Icelanders love the cabaret. But are the shows for foreigners as well?
"Reykjavík Kabarett's shows are for everyone, except the boring people! The show is so visual that you can show up, not speaking a word of Icelandic, or English, and have a blast," says Lárus the Magician and adds that there's a 20 year age limit to enter the cabaret and variety shows.
Nudity not the same as pornography
Maybe it's the movies, the costumes or the quirkiness of cabaret that makes some people link it to stripping or other vulgar practices. Sure, there is nudity in the shows of Reykjavík Kabarett, but are the shows obscene?
"We mix all sorts of bits together so nudity is by no means the main point, but it can sometimes be part of the beauty or the comedy. Stripping is illegal in Reykjavík so we hide behind the fact that we are a theatre by definition," says Miss Mokki with a glint in her eye. Maísól the Magnificent nods and adds:
"I'm such a feminist that I would never take part in this collective if it went against my values. It's so important to be sexy on your own terms, no matter what gender. And besides that, cabaret is about so much more than just being sexy – that's just an added bonus," she says, and believes that any misconceptions that people might have about these kinds of shows, swiftly vanishes when they enter the venue.
"The scene is so new here that people are still figuring out what cabaret is. With time, all misconceptions will disappear. Personally, I don't find it negative that cabaret is associated with nudity. Nudity is not the same as pornography. I don't think people are for example going to art galleries to see paintings of nude people because they associate that with porn. And if people were to come to a cabaret to see a porn show, they would be deeply disappointed."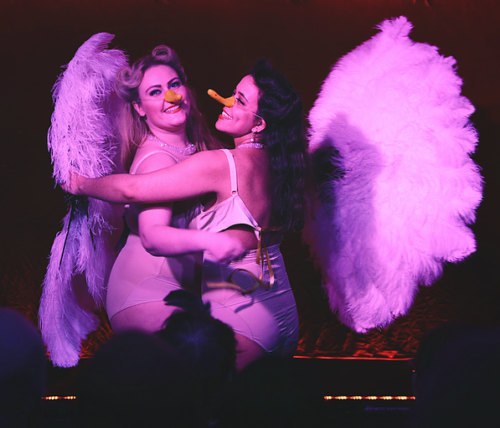 Inspiration from all over
After all this talk about nudity and porn, I feel the urge to change to a lighter tune. I wonder where the cabaret inspiration comes from?
"I get inspiration from all sorts of things, whether it be something physical that I want to do, a certain prop that I want to work with, a song or an idea for a character," says bubbly Miss Encircled.
"I often work on a type that I want to be and my bits are usually focused on mistakes and embarrassment. I get ideas from all over and they come to me very suddenly. But I would say that the other members of the cabaret collective give me the most inspiration and are my greatest role-models," says Maísól the Magnificent.
"My inspiration to make a variety show hails from the Slipper Room in New York where various scenes are mixed together. I regularly perform there," says Miss Mokki and I must ask her for more info about this collaboration with the legendary Slipper Room.
"We are getting loads of guests from the Slipper Room in April and James Habacker, art director and owner of the venue, will manage a workshop on the 29th of April at Kramhúsið in Reykjavík. The workshop focuses on how these sort of shows are put together, but James will also perform with us before the workshop. You see, we want to create a cabaret and variety show scene and not just have us working on these types of shows," she says.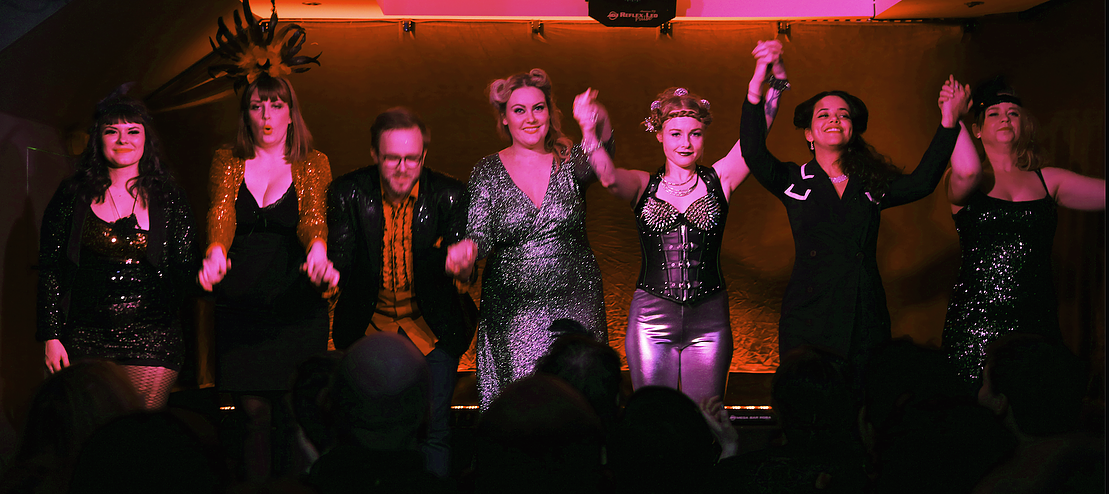 We're just getting started!
I must bid this diverse group farewell, though I could talk to them for hours on end. They have a show coming up in just a few short days, but I must ask them what the future beholds for the cabaret scene in Iceland?
"We're just getting started!" says Lárus the Magician enthusiastically. "When I'm old and grey, I want to see three to four cabaret venues in down town Reykjavík. This is the beginning of something amazing. Mark my words!"
"People want to experience moments together. You know, the "had to be there" moments. People want to laugh. People want to be in the moment with others. I have a dream that we'll get at least one location that tends to this art form, with a good stage, backstage facilities, head-room and good deals on sparkling wine," says Miss Mokki.
——–
You can buy tickets to Reykjavík Kabarett's shows at Tix or at the door. Make sure to check out Reykjavík Kabarett's website for more info, videos, glitz and glamour.