Posted on
Tuesday, August 8, 2017
Everyone seems to have a drone these days. I feel a bit left out when traveling Iceland not having one. So, when I got the chance to join a drone hiking tour just outside of Reykjavík, I said yes without hesitation.
I joined a drone hiking tour with newly opened tour operator Sagavista, which offers hiking tours in the vicinity of Reykjavík. Their speciality is the fact that they film the hike with a drone and send you the fully edited video after the hike. They even send you some photos of the hike as well. I think that's pretty neat because I could just focus on the hike and taking in the scenery, without constantly reaching for my phone to capture the moments.
I joined the Búrfell Crater Canyon Hike Tour, a trail through old lava tunnels created by the volcanic crater Búrfell. We're talking about tunnels that are thousands of years old and it's just 20 minutes outside of Reykjavík. I'm a bit embarrassed to confess that I had never even been there before. Sometimes you just search too far for beauty that is right in front of you. Sad, but true.
Stay on the beaten path
Anyways, back to the trail. It is really special walking the path leading up to Búrfell mountain, surrounded by lava formations. The scenery is quite spectacular. The trail is easy and flat, so you don't need special hiking boots. Sneakers should be fine, unless you have weak ankles and need added support. The hike is really a good activity for a family, though I must warn you that you have to stay on the path. All around the trails are chasms, some extremely deep ones, so it can be very dangerous to venture of the beaten path.
The only challenging part of the hike is the ascend up to Búrfell crater. It's a bit steep and slippery, but only takes a few minutes. And the view – oh my God. It's so amazing to stare down into a crater and admire the majestic landscape all around. I wish I could've stayed there for days! It was well worth the walk, and the guides at Sagavista even surprised me with some coffee and chocolate at the top. They sure knew the way to this girl's hiking heart.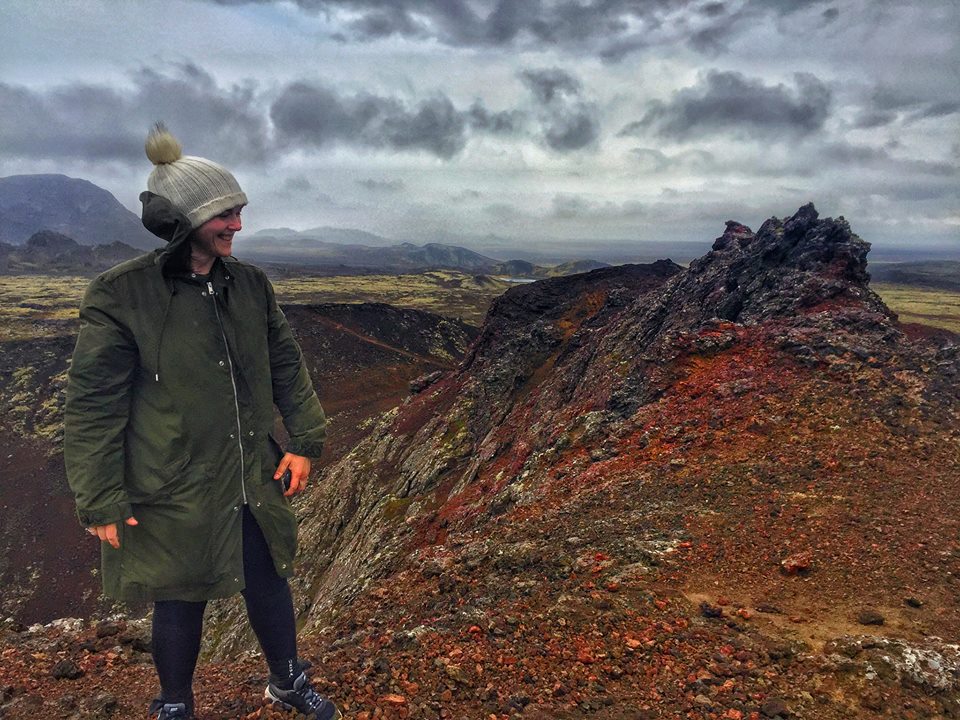 Amazing drone footage
The hike went so fast and I couldn't be more happy with the guides at Sagavista. They truly know what they are doing and don't flood you with historical and geological trivia. They let you enjoy the scenery, adding in some knowledge here and there when appropriate. But don't worry, if you feel like chattering the whole hike, they are also quite good at that.
The weather was not our friend during my drone hiking tour, so you can imagine my surprise when I received my drone video of the hike and it was actually really, really beautiful. You can see the video here below:
So, if you want to experience Icelandic landscape and nature, without ever leaving the capital, you can book a drone hiking tour with Sagavista. You can choose from various tours, like up Mount Esja or the Helgafell tour. Oh, and I should tell you that Sagavista is a family run company, with super friendly staff and guides.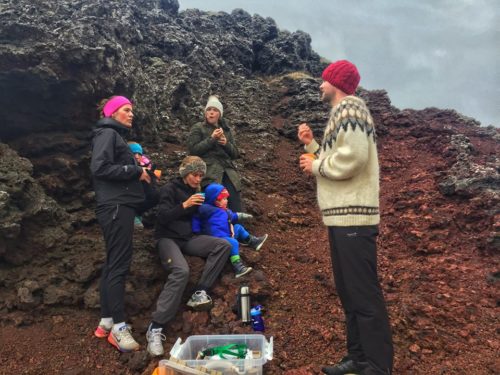 The Búrfell Drone Hiking Tour Details:
Tour duration: 3 hours roundtrip
Trail distance: 7 km roundtrip
Elevation: 179 meters
Elevation gain: 80 meters
Overall difficulty: 3/10 – easy hiking with low elevation gain
Included: Transportation, spikes for shoes and hiking poles