Posted on
Tuesday, January 31, 2017
"You might say that I found my niche in life totally by accident," says Icelandic photographer Bragi Þór Jósefsson. He specializes in wedding photography, more specifically he exclusively photographs foreign couples that want Iceland to be the setting in the photos of their big day.
Bragi has been working as a photographer since the late 1990s, having worked for some of the biggest magazines in Iceland,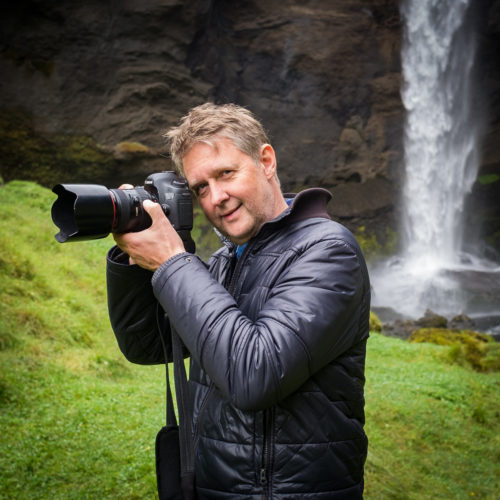 earning nominations and awards for his photos. But wedding photography was nothing that satisfied his artistic urge. Before the year 2010 he reluctantly shot weddings for friends and family and tried to stay clear of wedding photoshoots.
"I simply didn't find it exciting," says Bragi with a smirk. But everything changed in 2010.
"All of a sudden I got three inquiries from foreigners through my website, bragi.is, in a matter of two weeks. They were asking about wedding photos, how much it would cost and so on. For some reason it sparked my interest and I decided to give it a go," says Bragi.
He got two of those jobs; one in Reykjavík and one at Snæfellsnes in the west of Iceland. In the latter shoot he also photographed the couple at lake Kleifarvatn on the Reykjanes peninsula. Bragi decided to use a different approach and style in those shoots than he had previously done and found that he really enjoyed himself, especially during the shoot in Snæfellsnes and Kleifarvatn.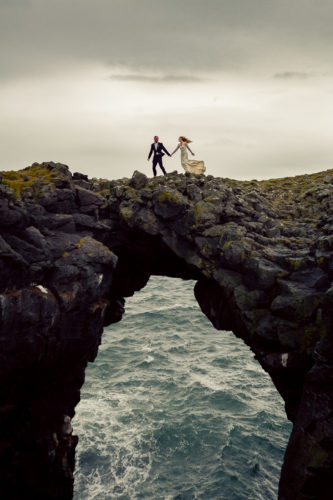 "The photos came out so well that I decided to enter a contest under the auspice of Photo District News, a publication for professional photographers," he continues. Much to his surprise, he won in his category, Ceremonies.
"That was a real boost for me," he says. He decided to take the next step in this newfound career and set up the website Iceland Wedding Photo, aimed at the foreign market, with the help of good friends.
"I immediately got responses and inquiries. That increased every year and now I get inquiries every single day. Today, a big part of my day is just answering various inquiries. Sometimes people only want to know the price but others write me long essays about how they met, what they're looking for and so on."
Today, just over six years after Bragi found his calling in life, so to say, taking wedding photos of foreign couples is his main line of work. He recommends that couples contact him at least four months in advance to make a booking.
South coast the most popular
But where do all these soon-to-be husbands and wives come from?
"They come from all over the world but most of them come from the US, Canada and the UK. I've seen a massive increase of people from Asia, especially from the mainland of China the last two years but with Asian customers it's always a matter of pre-wedding photos. They come here, we do a photoshoot and the photos are presented at the wedding, that sometimes takes place many months later," says the photographer. He adds that only Asian people come here for pre-wedding photos; others come here to get married. But doesn't that cost a fortune?
"My customers are usually people with an average to high income because it's more common abroad that people venture outside of their home-country to get married. If you take the US for example, it's not unusual that people have to travel great distances, from coast to coast, to attend weddings. Why not just fly to an exotic country instead?" says Bragi and adds that all his customers want to be photographed in the Icelandic countryside, away from the hustle and bustle of the city.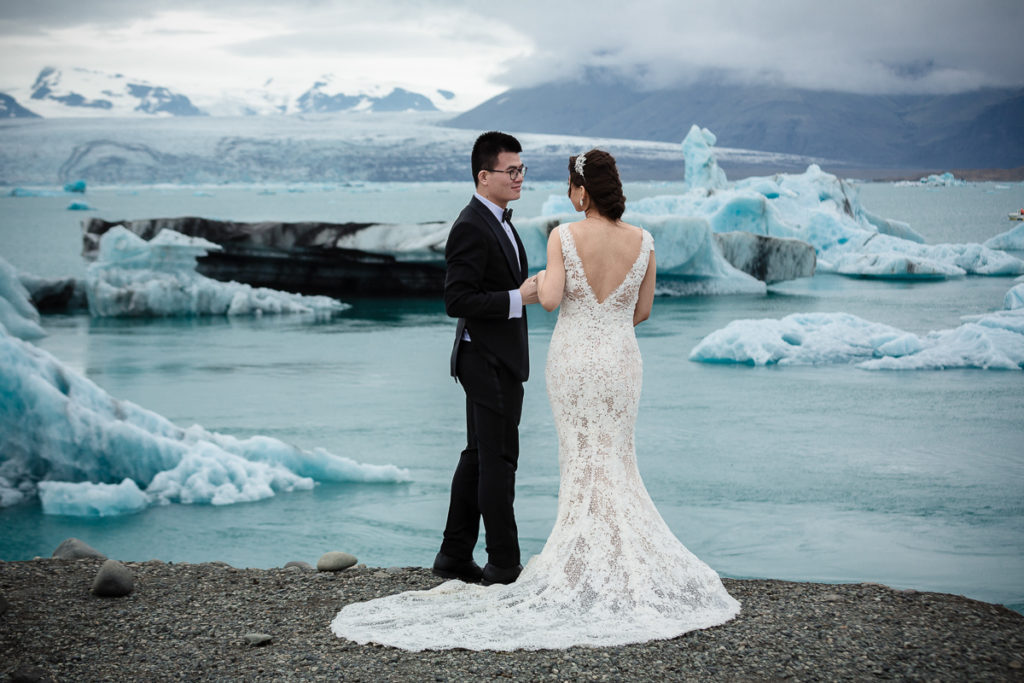 "It's not particularly fun to shoot wedding photos in the city, like most Icelanders do. I love taking photos of people in beautiful landscape. The south coast is the most popular setting with all the waterfalls and Reynisfjara shore. Búðir and Snæfellsnes peninsula are also places that people want to have as a backdrop in their wedding photos," says Bragi. That begs the question: Doesn't he end up shooting the same places over and over again?
"Kind of," says Bragi and laughs. "I don't know how many times I've visited Skógarfoss waterfall the last four years. But the funny thing is that I don't have two photos by Skógarfoss that are identical. They're always different because the weather and the light varies."
Wind, rain and storm for the perfect shot
Which brings us to the untamed beast that the Icelandic weather is. I wonder if Bragi has ever had to bow down to the forces of nature?
"Funnily enough, I've been quite lucky. I've seen weeks with endless rain and then having a clear sky on the day of the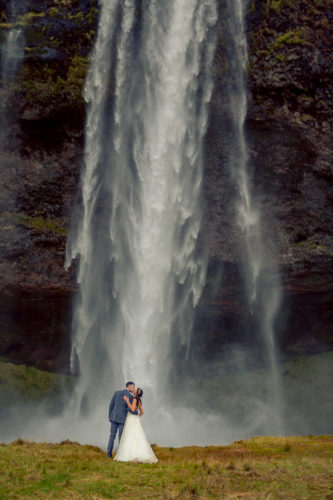 photoshoot. But I do remember one time when shooting at Hotel Rangá on the south coast. The weather was so bad that I got trapped at a wedding reception and couldn't get home. So I made the best of it and got the bride and groom to venture outside with me and got one great shot in the stormy weather with the bride's hair and dress spinning in every direction," says Bragi with a smile and goes on explaining why he prefers photographing foreigners to Icelanders.
"One thing I've discovered is that Icelanders are wretches when it comes to weather. I've taken photos of foreign brides in wind, rain and storm. I can't picture an Icelandic bride going to such lengths for a photograph. Foreign brides put in the effort for fantastic photos and respect photography much more than Icelanders and are prepared to wander around for hours with me for the perfect shot. Icelanders rather just hire their cousin Joey and settle for ok shots from the biggest day of their lives," says Bragi.
Not just wedding photography
Bragi says he puts great emphasis on making the soon-to-be weds extremely comfortable during the photoshoot.
"People have often mentioned that the photoshoots are very fun and that's my aim. I don't want this time to be strained or unnatural. I want people to feel good and have a good time. I usually meet with people 1 or 2 days before the shoot to talk them through it and also for them to get to know me and vice versa," says Bragi.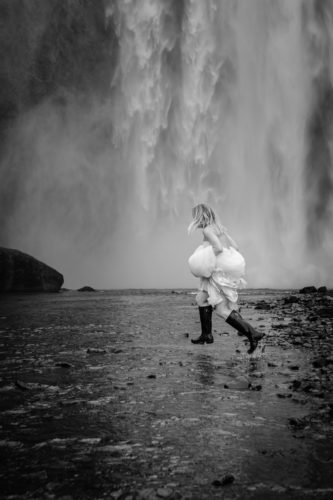 Bragi's schedule is quite tight with photoshoots but now he is starting to get inquires from abroad about other projects; not just wedding photography.
"People from abroad want to come here to take portraits and even baby bump photos. Iceland is an extremely desirable photo location at the moment," says the photographer. He however fears that the Icelandic landscape can't handle the run of foreign visitors for too much longer.
"The Icelandic government has to take action to protect the soil – something that isn't being done now. I see various places in Iceland that used to be grass land a few years ago but are now quickly turning into mires. It doesn't take much. Just a few ropes to keep people on the walking paths or some signs telling people where they can or cannot go. It's as easy as that."
____
You can contact Bragi through the contact form on his website or at bragi@bragi.is