Posted on
Friday, January 13, 2017
If you're looking for a lot of fun, a little bit of gambling and an interesting chat with natives you should definitely check out a place called Vinabær which is located on the street Skipholt 33, just outside of Reykjavík city center.
At Vinabær there are bingo nights every Wednesday and Sunday from 7.15 pm. Yep, bingo! And it's not just a bunch of grandmas who have nothing better to do than to gamble their pension away. People of all ages gather there to play bingo and meet their bingo friends and the place is usually packed. I kid you not!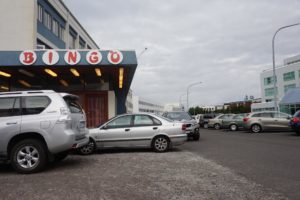 Even though the bingo nights start at 7.15 pm you can show up whenever you want and play a round of bingo but the nights usually finish around 10-11 pm. You can play one round, you can play four, or you can just buy yourself a coke and a smile and observe the wonderful characters that treat their bingo like an Olympic sport.
The cost of each bingo card varies but you can get away with spending just a few hundred kronas. And you can win big. A perfect and funnily odd night out.
How to get there?
If you're staying down town it will only take you a short while to walk from Hlemmur to Skipholt. Just ask for directions or use a map. You can also take bus number 13, get off at Flókagata and walk from there. Or you can take the number 2, get off at Fíladelfía on Laugavegur and walk from there. Then there's the taxi – but that will cost you.