Posted on
Tuesday, January 5, 2016
Gljúfrasteinn was the home and workplace of Iceland's most famous author and Nobel Prize winner Halldór Laxness. Laxness died in 1998 and now his home is opened to the public as a museum, unchanged from when the author lived there.
You can contact the Gljúfrasteinn museum for guided tours in Icelandic, English, German, Swedish or Danish and the entrance fee for grown ups is a meer 900 ISK. Children up to 18 years of age don't have to pay a single krona.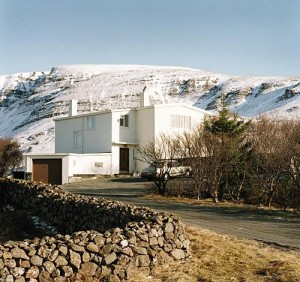 How to get there?
Gljúfrasteinn is on the way to Þingvellir national park and if you travel by taxi you just mention the name of the museum and the driver is sure to know it.
Or you can take bus number 15 to Háholt in Mosfellsbær. From there you take a pre-booked bus to the Laxnes bus stop. To pre-book the bus you need to call + 354 588 5522 at least an hour before the scheduled time.