Posted on
Wednesday, September 13, 2017
We might be very, very, very far from Japan but the Japanese sleeping pods have grown increasingly popular in Iceland. Do you fancy staying in sleeping pods in Iceland? Then read on.
Hotels that offer sleeping pods, so-called capsule hotels or pod hotels, were developed in Japan with the first opening in 1979 in Osaka. Originally it was meant to be a budget option, providing a place to sleep for those who can't afford, or don't require, services at conventional hotels. At capsule hotels you will find rooms filled with small capsules, or pods, so it's quite efficient in using up the space.
Even though this sleeping arrangement suits many travelers, it hasn't really caught on in the rest of the world, with a few exceptions. Iceland is one of those exceptions. That comes as no great surprise, since we Icelanders love the quirky and weird.
Main Photo Credit: Galaxy Pod Hostel.
The first sleeping pods in Iceland
The first capsule hotel was opened in Iceland in 2015. The hotel is called Galaxy Pod Hostel and is still open today at Laugavegur 172 in Reykjavík. You can choose to sleep in a 4, 8 or 24 person dorm or a 6 person female dorm. The 4 pods dormitory has 4 queen size pods and is ideal for couples and families it states on the Galaxy Pod Hostel's website. The sleeping pods in all rooms are equipped with lockers to secure your valuables and in the 24 bed dormitory the pods have smart TVs.
Price: One night in a pod at Galaxy Pod Hostel will set you back 7.000 to 9.000 ISK, approximately 66-85 USD.
Booking.com Review: 8,5
Island pods
In the Westman Islands, a short ferry or plane ride away from the south coast of Iceland, you will find another pod hostel, the family owned Puffin Nest Capsule Hostel run by Guesthouse Hamar. There are 40 capsules inside the hostel, with guests having access to toilets and showers. All the pods are individual ones, equipped with a television, safe box, air conditioning, Wifi and more. The hostel is located on Herjólfsgata 4, a few hundred meters from the harbor.
Price: A night in the sleeping pods will cost you around 5.000 to 8.000 ISK, approximately 47-75 USD.
Booking.com Review: 8,1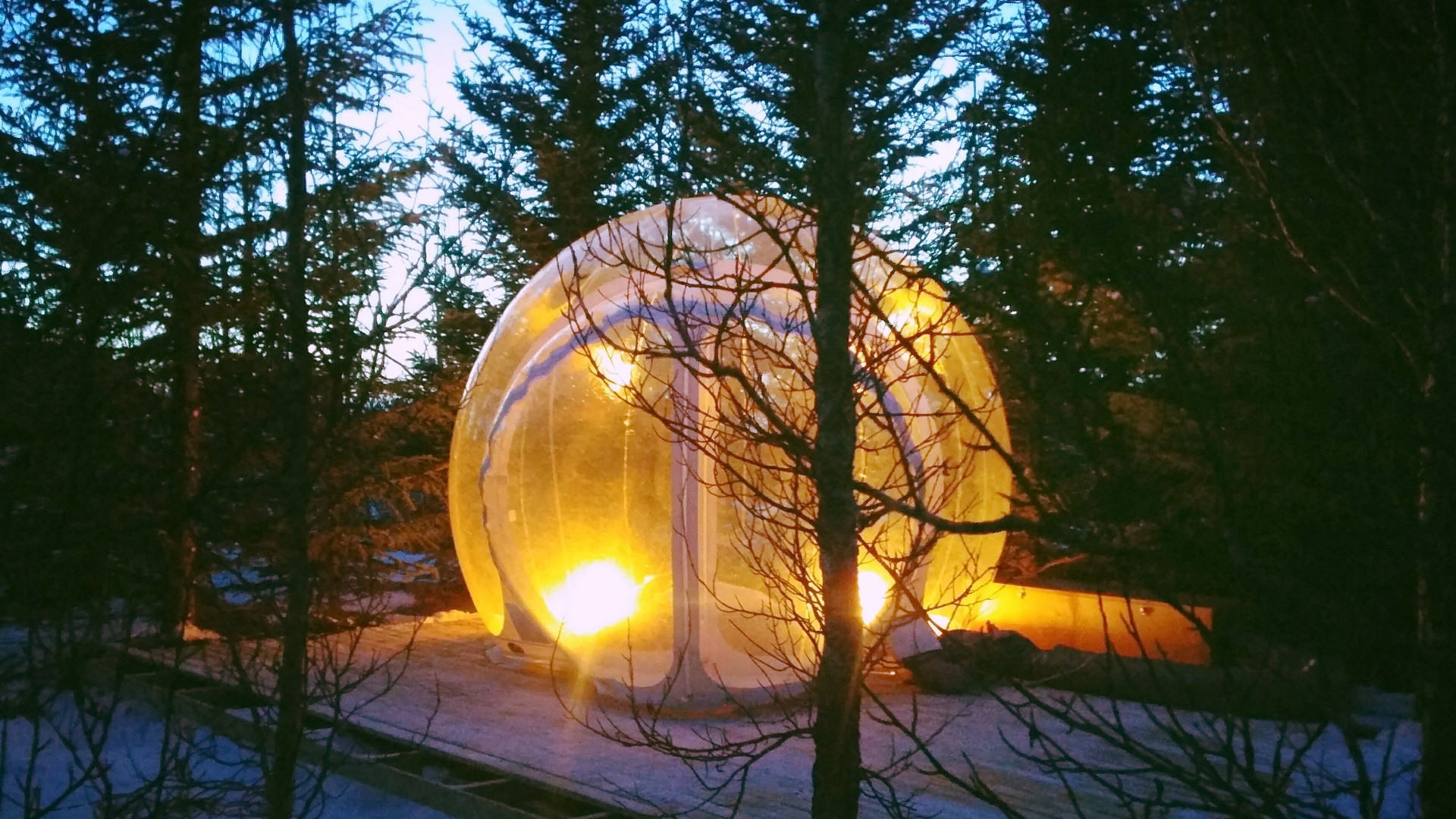 Bubble pods
While it's not exactly a sleeping pod, you might be interested to know of the Buubble accommodation. The name sort of says it all – you basically sleep in a bubble in the great outdoors. The owner of the Buubble hotel proclaims it's the "5 million star hotel", referring to the fact that you can basically sleep under the stars and gaze at the night sky, while safely protected from rain and wind inside the bubble.
Price: Since it's a 5 million star hotel, it's going to cost you. One night it around 30.000 ISK, approximately 282 USD. Price doesn't seem to be an issue since the bubbles, all five of them, are fully booked throughout this year.
Booking.com Review: N/A
Have you tried staying in sleeping pods in Iceland? We would love to hear about your experience! Send us a line at mustsee@mustsee.is.