Posted on
Monday, January 2, 2017
A short walk from Hamraborg is one of the loveliest swimming pools in the capital area – the old swimming pool in Kópavogur. But the look and feel of the swimming pool is far from old since it recently underwent a massive make over.
This swimming pool is perfect for kids but also has some extremely cozy hot tubs for the grown ups. The indoor swimming pool is also very good, offering both an are for swimmers who can't stand the Icelandic weather, and a kiddie's pool for playing and messing about.
In the basement there is also a fully equipped gym which offers a variety of classes suited for almost everyone. Definitely a place to visit and enjoy the relaxing atmosphere of Kópavogur. And who knows, you might even make a few friends in the hot tub where the problems of the world are solved every day.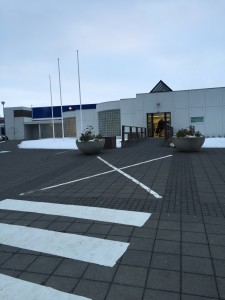 How to get there?
If you take a taxi you just tell the taxi driver to take you to Kópavogslaug at Borgarholtsbraut 17.
If you chose the bus you can take bus number 1, 2, 4, 28 or 35 and go out at the bus stop called Hamraborg. From there you have to walk a few meters along Borgarholtsbraut and the swimming pool is on the left hand side. You can't miss it!