Posted on
Thursday, March 17, 2016
Just outside of Reykjavík you will find a quiet and beautiful town called Mosfellsbær. And in Mosfellsbær is one of the most fun children's pools in the whole of Iceland called Lágafell Swimming Pool, or Lágafellslaug in Icelandic.
They have the most fantastic slides for the bigger kids and for the small ones they have an extremely nice kiddie's pool. I'm telling you, you can get lost in this pool for hours on end, especially if the weather's nice. And if it's cold you can always move to the indoor pool area where you will find loads of fun stuff to play with.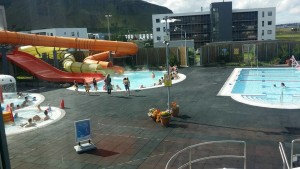 But adults – don't worry. There's stuff for you to do also. The hot tubs are amazing and the swimming area is absolutely spot on. Not to mention the sauna by the pool and the gym that's located in the basement. Make a day of it and you won't regret it.
How to get there?
The pool is located at Lækjarhlíð 1a in Mosfellsbær and your taxi driver should be familiar with it.
If you take the bus I should warn you that it's quite a way from down town Reykjavík. But the bright side is that you will see a lot on your way. Take bus number 15 and get out at Lágafellsskóli – you can't miss the swimming pool.