Posted on
Thursday, October 12, 2017
"I couldn't have imagined a better proposal than receiving diamonds on Diamond Beach. Iceland was already so magical, and this just gave it an even more special place in our hearts," says Caitlin Kelley, a music student from Arizona.
Caitlin visited Iceland with her then boyfriend, Conor McCarthy, an English teacher from New York, in September this year. Conor is no longer Caitlin's boyfriend, but indeed her fiancé, after he decided to propose to her at Diamond Beach by Jökulsárlón glacier lagoon in southeast Iceland. It truly was a proposal they will never forget.
100% a surprise
Caitlin and Conor stayed in Iceland from September 17th to the 24th. Even though they saw a big part of the country, Caitlin does not have to think for a second when I ask her what the highlight of the trip was.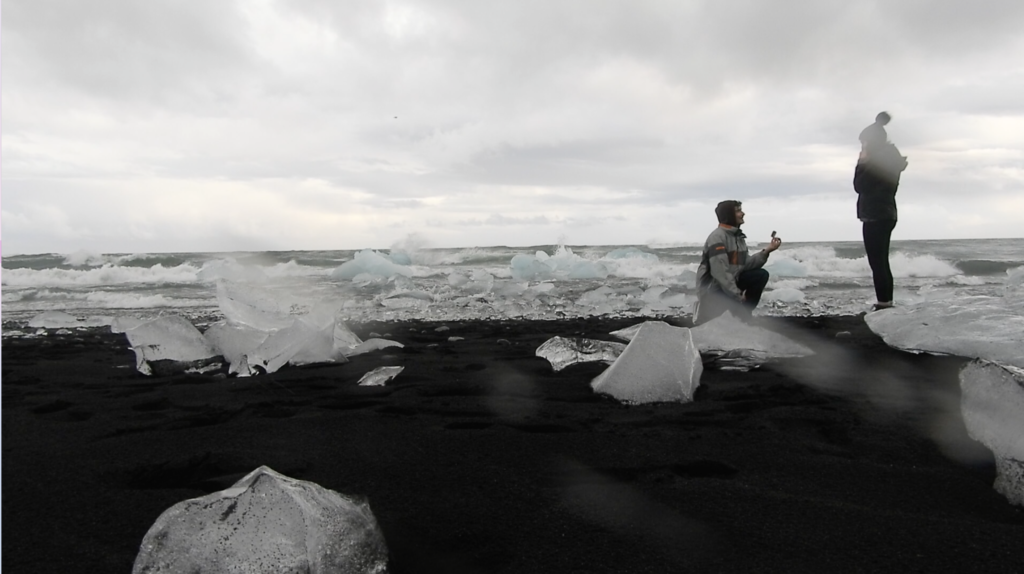 "The proposal was, of course, my favorite highlight! It was 100% a surprise; I had no idea that he had been planning this for months. I like to make travel videos of our trips, and so when Conor suggested setting up the tripod for a shot on Diamond Beach, I had zero suspicions that anything was about to happen. I suggested that we get a clip of us walking across the sand holding hands, and he readily agreed. After about 10 seconds of walking, he pulled the ring out of his pocket and dropped to his knee in the black sand," says Caitlin, and can't help but smile when she looks back on this memorable moment. The proposal took her completely off guard.
"I definitely didn't expect it–he's great at keeping secrets! I was shocked but, of course, so thrilled. And there were tears, so I'm glad he chose to propose in a more secluded part of the beach."
Ring Road in 7 days
Caitlin and Conor met three years ago, while teaching English in Japan. They chose Iceland as their autumn holiday destination because "Caitlin wanted to ride horses across the beautiful Icelandic scenery," says Conor and goes on to tell me about their trip.
"We first spent two days in Reykjavik and then decided to rent a car and do a whirlwind tour of the Ring Road. We did the Golden Circle, saw the beautiful southern coast, drove up the east and explored the unique Lake Mývatn region, then passed through Akureyri and back down to Reykjavik. We knew that we didn't have much time for the Ring Road, and many people suggest only attempting it if you have more than a week, but we wanted to see as much as possible while we were there and didn't mind long drives! I wouldn't change a thing," he says.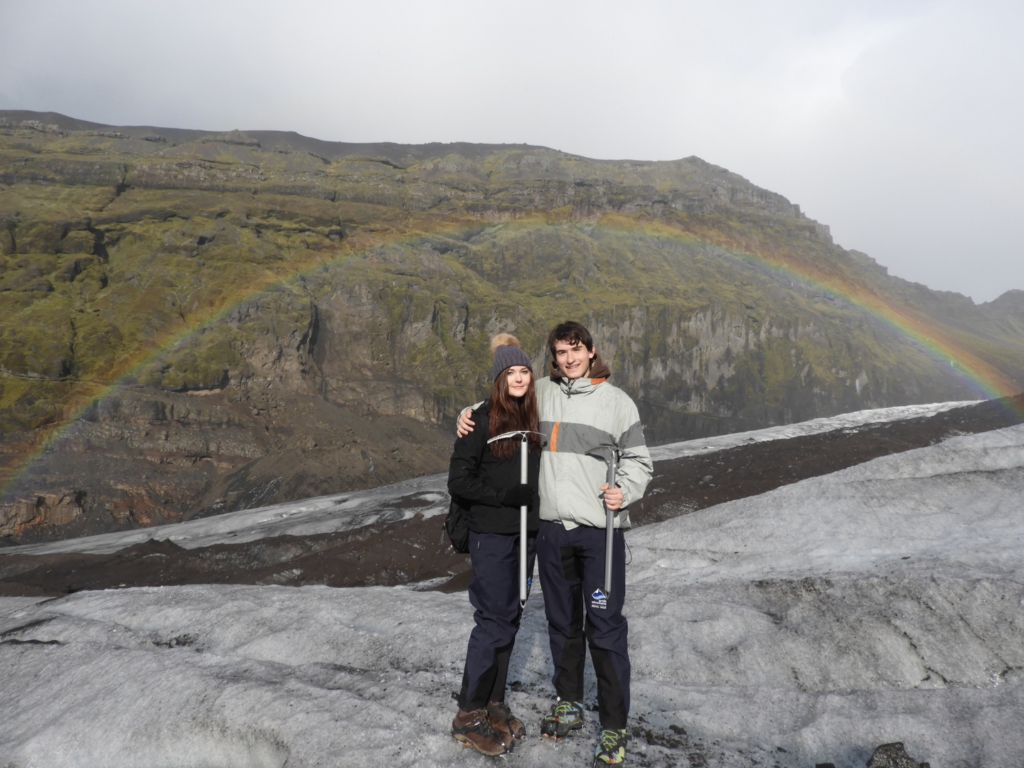 A thoroughly planned trip
Seeing that the future husband and wife had quite a tight schedule, I must ask if they planned ahead or went with the flow when they landed in Iceland?
"It was very much a planned trip," says Caitlin with a smile and goes on. "We've known for a year that we wanted to go to Iceland at this time. Conor likes to go with the flow and is happy to sit back and let me plan, which is a win-win because I love to make itineraries and find out what worked and didn't work for other people's trips," she adds. But how did she plan for the trip? What resources did she use?
"I used Reddit to ask questions and research ideas that interested us, as well as read TripAdvisor tips, watched tons of YouTube videos, and found helpful articles on wonderful sites such as this one." Awww, Caitlin! Thank you so much for the kind words!
No McDonald's and not so cold
We've already learnt that the proposal on Diamond Beach was the highlight of their trip, which comes as no surprise, but were there any other places or activities in Iceland that stood out for the happy couple?
"A highlight for me would be hiking up the glacier. Our guide was interesting, it's cool to be a on a glacier (ba dum tish), and when we ascended to the top we were treated to a magnificent full rainbow. Also, the glacier water is no joke the best water I've ever had in my life. It's no wonder billionaires import it," says Conor.
"A highlight for me was seeing the Northern Lights for the first time. Since it was cloudy and rainy nearly the entire time we were there, I didn't get my hopes up. But on the sixth day of our trip, the night cleared just enough for us to see them. It was simply an awe-inspiring experience," Caitlin adds.
I wonder, since Caitlin planned the trip so thoroughly, if there were any surprises along the way?
"I was surprised that it isn't terribly cold! I packed so many warm clothes because I wasn't sure what to expect, but I didn't end up using a lot of them," says Caitlin. For Conor, the elements of surprise were quite different from Caitlin's.
"I was surprised that the whole country has no McDonald's. I thought they were everywhere except maybe North Korea. I was also surprised that the sheep are totally free to roam about and the farmers have to go round them up every year, sometimes from absolutely insane places."
Bring a fat wallet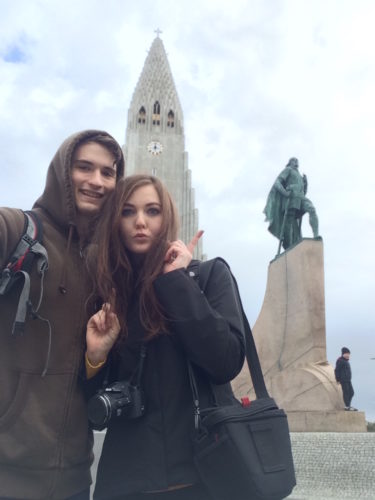 Tourism in Iceland has boomed the last years, with hundreds of thousands of travelers visiting the country every year. Do Caitlin and Conor have any tips for all those Iceland bound wanderers?
"Bring a fat wallet. Iceland is beautiful but a taste of it doesn't come cheaply. To cut costs and also enjoy life, eat as many hot dogs as humanly possible," says Conor and laughs.
"And don't worry about the weather!" Caitlin adds. "I was stressed about the forecast saying that it would rain the entire week, but the country is actually gorgeous no matter what the weather is like. Just bring a waterproof jacket and you're good to go."
"I'm already planning our next trip!"
The couple doesn't have a fixed date for their wedding but are planning on saying their I dos in the spring of 2019. I can't let them go without asking if Iceland could be the backdrop for their special day.
"If only Iceland wasn't so expensive, maybe we would consider having it there!" says Caitlin with a big laugh. However, she is determined to visit Iceland again.
"Oh, we will definitely be back. I'm already planning our next trip! We want to see the West Fjords next time since we didn't get to them this time around. Perhaps during the summer when there are many more daylight hours. I think it would be a great anniversary trip to honor our engagement story!"