Posted on
Wednesday, May 24, 2017
One thing I've always wanted to try is sea angling. It was becoming quite embarrassing to be an Icelander who hadn't caught a single fish out at sea, so I was delighted when I got the chance to hop on the Sea Angling Gourmet Tour.
I booked a spot more than a month in advance, so you can imagine my surprise when I woke up on the morning of my sea angling tour and there wasn't a cloud in the sky, the sun was shining and the weather was unusually still, compared with the Icelandic norm. Summer was finally here. Of course, I made the classic mistake of dressing lightly, not factoring in that I would be spending a day at sea. But more on that later.
Friendly father and daughter duo
I invited my husband (the genius behind Must See's awesome design and function) to come along, he being a veteran fisherman having both worked on trawlers and fished in Iceland's many rivers for sport. We arrived at the old harbor in Reykjavík a little before 11 AM and were greeted by a lovely father and daughter duo, Snorri and Eyja. Eyja actually means Island – quite a fitting name for our Icelandic guide at sea. You see (pun intended), I had read that the company operating the Sea Angling Gourmet Tour was a small family business, Happy Tours. I was so unbelievably happy to learn that that wasn't just a phrase that looked good on advertisements but actually 100% true!
We saw puffins!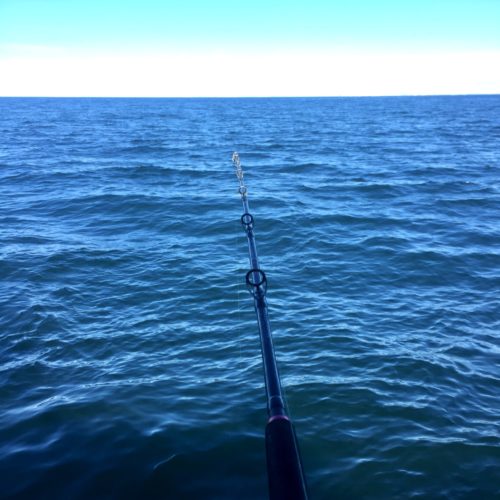 A few minutes later we were onboard our vessel – a 40 feet traditional fishing boat, built in Iceland in 1970. This charming old boat is called SAGA, meaning HISTORY. I couldn't have dreamt of a better boat to spend the day on. Its rustic appearance really added a sense of romanticism to the whole journey. The boat only carries around 15-20 people so Happy Tours can always guarantee a small group experience, which I very much appreciate.
And then we were off on our adventure, sailing out of Reykjavík harbor with a gorgeous view of Harpa concert hall on the way out to sea. We started our tour by sailing past Engey island, catching a glimpse of a few puffins that call the island their home. Then our captain Snorri found a suitable spot to stop the boat and start the sea angling.
Everybody wins
I wasn't at all expecting to catch a fish, having never in my life caught one. To my surprise I only had to wait a few minutes before something frisky was pulling on my rod. Lo and behold, a beautiful, little cod was coming my way. Our trusted guide Eyja helped me wheel it in and on I went, catching 3 or 4 more for the rest of the trip. In fact, everyone on the boat caught something, either cod or pollock. And my husband, my hero, caught the biggest one. An 11 pound cod which he had to wrestle to get in the boat.
Cooking the catch on board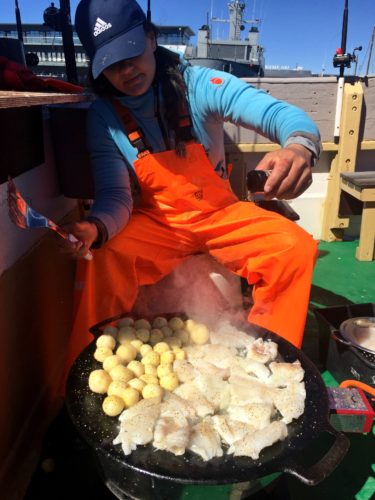 Soon after the fishing commenced, father Snorri and daughter Eyja started to clean and filet the fishes we caught. And for good reason. When we came back to shore, some 2 and half hours later, Eyja pulled out a barbecue and cooked the fish, with some potatoes, on a hot stone pan. Right in the middle of the alluring boat. A homely meal with a rich taste. The perfect end to a lovely tour out at sea in the most gorgeous Icelandic weather.
No distractions
I left the boat feeling happy and relaxed and thoroughly enjoyed being stuck in the middle of the ocean, not being distracted by my smart phone or the hustle and bustle of the city. I found a serenity on the boat, much due to the fact that the group was small and our guides so personable and friendly. Our captain Snorri has been sailing fishing boats for 40 years and had a story or 10 to tell us. His daughter Eyja has been fishing since she was a child, living in a remote town in the Westfjords. She could tell us everything about the anatomy of the fish we caught, dissecting them on board the boat to show us everything we didn't know about fish. Just authentically nice people those two.
Please dress warmly
I highly recommend the Sea Angling Gourmet Tour but I must urge you not to make the same mistake as I did. Dress warmly, because it gets way colder out at sea than in the city. Bring a hat and some mittens and wear layers. Don't worry about rain resisting wear or boots because they are provided on the boat. But most importantly, bring your good spirit and enjoy sailing away from all your worries for a few hours. It really is an experience I won't forget in the near future.
Book the Sea Angling Gourmet Tour below!
Choose Date of Travel