Posted on
Friday, February 3, 2017
"I would love to come back to Iceland! I've been doing some research into doing a road trip around Iceland and I think it would be so so fun. There are so many more spots that I want to see, a week definitely wasn't long enough," says 22 years old Australian graphic designer and photographer Sean Tattam.
Sean visited Iceland last December and made a fantastic video of his snorkeling adventure in Silfra at Thingvellir national park. The video sparked our interest so we here at Must See in Iceland decided to hit Sean up with some questions and beg him for traveling tips.
Saw all the tourist-y spots
"I had two reasons I went to Iceland: The first reason was to escape the scorching heat of Australian summer, and the second reason was to see all the amazing sights that your country has to offer," says Sean with a smile. He spent a week in Iceland and got to see a lot in that time.
"I spent a few days by myself and also a few days on a group tour. I went snorkeling in the Silfra Fissure, did a glacier hike on the Sólheimajökull glacier, and saw most of the big tourist-y spots along the south coast," he says.
Rocky start
Sean is not one of those travelers that planned his trip from A to Z. He had a bit of a rocky start and had a bit of trouble with the Icelandic transportation system.
"My arrival in Iceland wasn't planned very well. I got in to my Airbnb at around 2:30 AM and had to be up at 7 AM to go to the Silfra Fissure to snorkel! On the way back I stopped at a grocery store and left my wallet there, but thankfully a lovely old lady handed it in to the store for me (I love Icelanders). The only thing I wish I knew more about before I got there was the public transport, I found it very hard to work out the bus systems unfortunately," says Sean, who has some traveling tips for fellow travelers.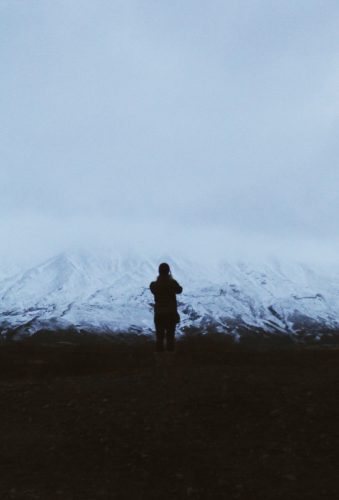 "If you're going to Iceland in the winter like I did, make sure you have thermals! Layering is also the best way to stay warm," says Sean and goes on.
"If you're planning on eating well while in Iceland, make sure you leave plenty of room in your budget for food as it is very expensive. Also, if you enjoy a drink, buy some alcohol from the duty free store. Do as the Icelanders do and drink before you go out to save money," he adds. And he's right about the alcohol – just check out our tips on drinking on a budget in Iceland.
Seeing snow for the first time
Even though Sean's video of the snorkeling expedition is extremely beautiful, I would like to hear first hand what he thought of the experience.
"The Silfra Fissure dive was a very surreal experience for me. Seeing snow for the first time in my life while diving in 1 degree Celsius water is something I will never forget. The wetsuits you're provided with are thermal suits, so the only part of your body that gets cold is your face. It does get quite cold though! I would definitely recommend doing the dive, it's truly an amazing thing to do."
Before we let Sean go, we must ask him about the food. Did he taste any traditional, Icelandic cuisine?
"The only Icelandic food I tried was the delicious hot dogs! My budget kept me from trying any traditional dishes, but the hot dogs were amazing nonetheless."
We recommend you follow Sean on Instagram at @seantattam – he's a pretty cool guy.