Posted on
Friday, January 27, 2017
One of my all time favorite spots in Iceland is Seljalandsfoss waterfall. I just can't get enough of it! I've been there probably a hundred times and it never gets old or boring or not mind blowing.
And since I've now built up your expectations, let me tell you a little bit about the waterfall. It's in the south, like so many other natural gems. And it's in fact not so far from another legendary waterfall, Skógafoss. It'll only take you around one and a half hour to get to Seljalandsfoss from Reykjavík, and while you're at it you can drive to Seljavallalaug pool, which is a little further, for a soak. Seljalandsfoss waterfall drops some 60 meters and is a part of Seljalandsá river, that origins in Eyjafjallajökull volcano. We've been through this before, I'm not going into that pronunciation! But if you really want to try to pronounce this mess of words, take a look at this:

Are you back? Ok, let me praise Seljalandsfoss a little bit more! It's hard though, since it's beauty is not captured by insignificant words. It's a case of "See it to believe it". It truly is.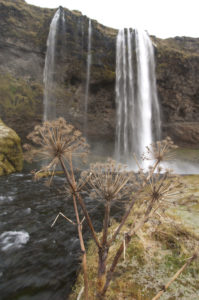 I love visiting Seljalandsfoss in daylight. Just to take in the power and magnificence that is this waterfall. An added bonus is that you can walk behind the waterfall and just stay there, basking in this incredible force of nature. The path that leads behind the waterfall is tricky though and can get quite slippery, so just be careful.
But visiting the waterfall in the pitch black dark is also nothing short of majestic. The waterfall is lit up and you just feel like you've landed in paradise.
If you're up for a short walk, you can take a left on the right hand side of the waterfall where you will see a path. This path will take you to other, smaller waterfalls that are also just lovely.
Must See says: You must see this waterfall! It really is one of the top 10 things to see in our beautiful country.