Posted on
Wednesday, January 4, 2017
You can't visit the Westfjords of Iceland without taking a trip to Dynjandi waterfall. Well you can but don't do it! You must see this waterfall!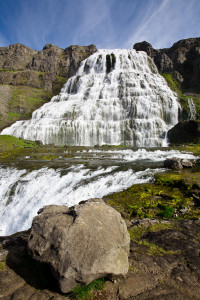 Some say it's the most beautiful and awe-inspiring waterfall in Iceland and for good reason. It's actually a series of 7 waterfalls with a cumulative height of 100 meters but the biggest and the widest part, which is called Dynjandi or Fjallafoss, usually gets all of the attention. It's a world class supermodel, having decorated many a front page through the years.
Even though Fjallafoss gets all the buzz I recommend hiking along the area and taking a look at the other six waterfalls called Hæstahjallafoss, Strompgljúfrafoss, Göngumannafoss, Hrísvaðsfoss, Hundafoss and Bæjarfoss. You can park your car at the parking lot by the waterfalls and just enjoy a day of hiking in the uncouth and enthralling nature. Pack a lunch and just forget about everything. Be one with the waterfalls.
You can also see if you can spot the supernatural beings that are said live in the waterfall. Probably you won't see them since the nature of supernatural creatures is that you can't see them but maybe you will feel them all around you. That goes with the whole of the Westfjords since it is the most supernatural place in Iceland, in my opinion. Looming danger and mystique and unforgettable beauty.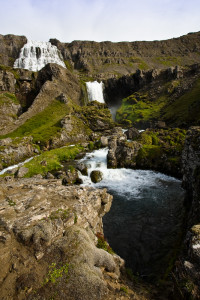 The closest urban area to Dynjandi is Þingeyri and you can also snatch up guided tours to this magical place.