Posted on
Tuesday, October 10, 2017
Yeah, I know this is a pretty big statement but we're feeling quite confident that we've compiled a comprehensive list of the best burgers in Iceland.
You see, we've contacted tens, even hundreds, of locals and asked for their input in this piece to try to find the best burgers that our small island has to offer. There are hundreds of restaurants in Iceland, many of which offer unique and great tasting burgers. Our list includes the places that we feel stand out from the crowd and offer burgers that are absolutely mind blowing. In short: The best burgers in Iceland.
If you've had a burger in Iceland and can't find the restaurant that offered said burger on this list, we would love to hear from you and try it out. Just hit us up at mustsee@mustsee.is and maybe your favorite burger will be added to our burgerlicious list!
Capital Area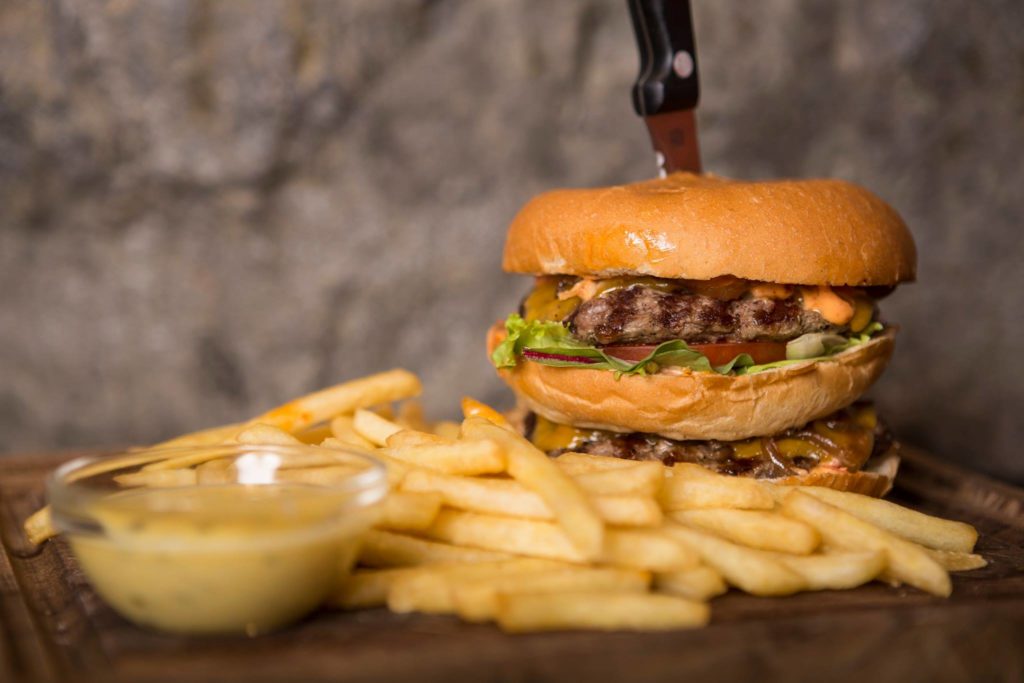 We have kind of been obsessing with the grilled rib eye burger at Verbúð 11 Lobster&Stuff, which is located at the harbor in Reykjavík. This burger is totally badass and adorned with heavenly trufflemayo, garlic roasted mushrooms and caramelized onion. Yummy!
So, we've written a special blog just about Chuck Norris Grill but when it comes to burgers, we can't leave this place out. That chili mayonnaise they but on the burgers is out of this world! These burgers always make us feel happy and satisfied when we exit Chuck Norris Grill
Okay, we never thought that parmesan cheese on fries would be a good idea but Bazaar Oddsson has proved us wrong! You have to try the popular burger that accompanies the fries – it is on the smaller side but every bite is like a party in your mouth.
I usually get quite anxious when I have to choose just one burger at Roadhouse because there are so many delicious dishes to choose from! The pulled pork one is a favorite of mine, as is the Roadhouse burger. I have yet to try the doughnut burger, which looks amazing, smells amazing so it must taste amazing!
Sæta svínið has been mentioned before on our blog and for good reason! They offer waffle fries with their tasty burger and that alone had me the second I looked at the menu. It doesn't hurt that the atmosphere at Sæta svínið is extremely cozy and you can always count on a cool party at that place.
Vegamót is a legendary restaurant and bar in Reykjavík, with the food being as good as the party that follows. They have a selection of burgers but our personal favorite is the Black Angus burger which is served with waffle fries (yeah, we love those waffle fries) and adorned with some caramelized onion, Japanese dressing and Béarnaise sauce. What a show stopper!
British comedian Ricky Gervais visited Iceland not so long ago and fell in love with Messinn restaurant. Mr. Gervais love the salmon burger so much that he ate it two days in a row! We can't blame him – Messinn knows it's stuff and is well worth the visit.
South Iceland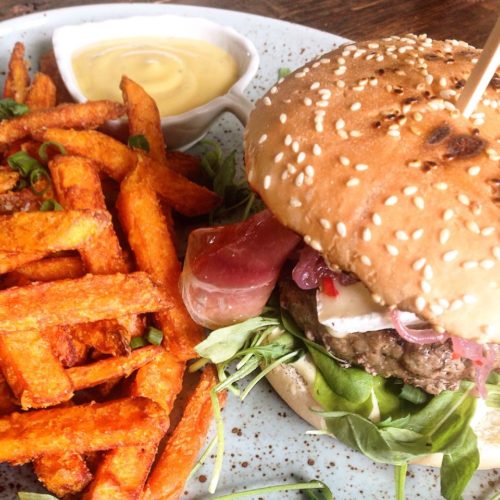 Again we mention Tryggvaskáli, but that's a restaurant we can't leave out when listing the best burgers in Iceland. Their burger is absolutely gorgeous, made with fresh and good ingredients, served with sweet potato fries and Béarnaise sauce. It's a fine dining burger you won't forget!
At Kaffi Krús you can choose between a few burgers but I always recommend the Tower Burger. It is a burger with a piece of deep fried Brie cheese. How good does that sound?! So good that I had to sit for a good twenty minutes before getting up after finishing this glorious burger. Don't like Brie? Don't worry! The other burgers are pretty darn good as well.
East Iceland
If you're in Egilsstaðir, or its surroundings, we recommend you pop by Lake Hotel and feast on their beef burger with spicy date-purée, bacon, whiskey glaze and curly fries. We're a bit obsessed with this burger because it's that good! If you're a burger lover, this will be a home run! Absolutely on of the best burgers in Iceland.
North Iceland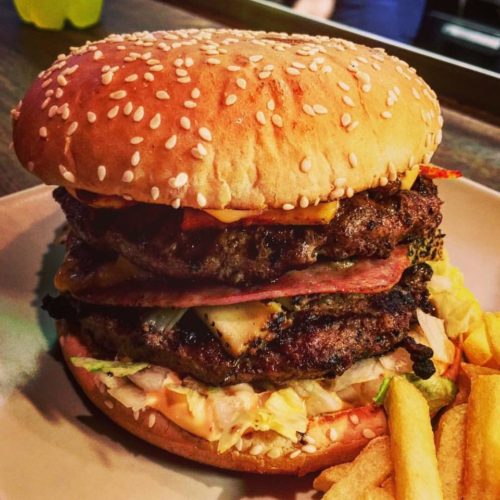 Vogafjós Café is all about homemade, local food and they put great emphasis on the food being wholesome and healthy. The café is actually attached to a cowshed, which is brilliant if you don't mind the cow smell. I can guarantee that you won't smell anything but your sweet, sweet burger once it arrives to the table.
This is maybe the worst name for a restaurant that we could think of but it really doesn't matter. Why? Because they make such beautiful burgers that you almost have to cry when you bite into them! The only problem is that there are way too many burgers to choose from but we are huge fans of the McGauti and the Mega Burger. Simply delicious!
Westfjords
You can count on Húsið to offer low-key, authentic burgers with a real zing! So, if you're traveling the Westfjords, you should definitely pay Húsið a visit. The atmosphere is cozy and rustic and you will have no problem socializing with some interesting and fun locals.
West Iceland
Snæfellsnes peninsula is becoming one of the most popular attractions in Iceland. If you decide on doing a peninsula tour, you should check out Skúrinn restaurant in Stykkishólmur. They make a mean burger which has admirers all over the country. Excellent stuff!
Akranes based restaurant Galito has a selection of burgers that make your mouth water. We especially recommend the BBQ Jalapeno Burger and the Camembert Luxury Burger. Quality ingredients and you can really taste all the love that goes into these excellent burgers.
So, now you've read about the best burgers in Iceland, go out and eat the best burgers in Iceland! Bon appétit!