Posted on
Tuesday, May 16, 2017
Chances are you've heard or read about Skógafoss waterfall on the south coast of Iceland. Thousands of tourists flock there every year to tick off the box in their itinerary that says: See Waterfall in Iceland. But have you heard about Skógafoss' less known cousin?
I'm talking about Kvernufoss waterfall, which is just a few minutes away from Skógafoss waterfall, but hardly gets any visitors. I'm running the risk of making some locals quite mad that I'm even telling you about Kvernufoss, but trust me – this is one waterfall in Iceland you have to see.
Hidden waterfall in Iceland
Kvernufoss is kind of like the ugly duckling of waterfalls in Iceland. If you Google "Waterfalls in Iceland" you will have a tough time finding it and it's hardly ever on top ten lists of the most beautiful waterfalls in Iceland. In addition to that, you can hardly see it from the ring road and while you see lots of signs guiding you to Skógafoss, there is nothing to indicate that right next door is a majestic canyon housing one beautiful waterfall.
It's quite easy to get to Kvernufoss, but unlike the other mainstream waterfalls on the south coast, you can't just park your car, snap a few pics and drive off. You actually have to put in a little bit of effort to get to Kvernufoss, but don't worry – it's only about a half a mile walk, or 600 meters. To get to this waterfall that I love so much, you simply exit the ring road like you're going to Skógafoss and follow the signs that guide you to Skógar Museum. Take a left like you're going to the museum and drive that road until it ends by some machinery. Park your car and head east until you reach a small river. Then you follow the river upstream until you see the waterfall.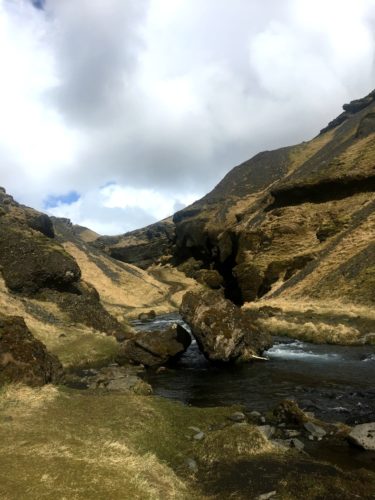 Not for those who are afraid of heights
The beauty about this walk in the canyon is that you don't see the waterfall straight away. You follow the river, follow the river and all of a sudden you see it. Kvernufoss in all it's glory. The path is not well kept so you have to be careful and I wouldn't recommend the hike to the waterfall to people that are afraid of heights. And even if you're in excellent shape and dressed for the occasion, be careful anyway. The Icelandic nature can really punish you if you don't behave!
And it's so quiet in the canyon. So peaceful. So endlessly beautiful. And, like Seljalandsfoss waterfall, you can walk behind Kvernufoss at your own risk. Again – be careful! And don't forget to respect the waterfall and it's surroundings. Don't litter and make a mess and don't even think about using the canyon as your personal toilet.
The journey from the parking lot to Kvernufoss only takes a few minutes but I urge you to reserve at least an hour in your itinerary for this stop. It's more than just a tick in the box. It's a once in a lifetime experience.