Posted on
Monday, April 10, 2017
There's nothing quite like standing in front of a massive waterfall, oo-ing and ah-ing over the raw power that they possess.
Last weekend I explored the South Coast for the trillionth time. Visited Flúðir, Hella, Selfoss and Friðheimar to name a few places. Ate lovely food, cursed the endless rain and spent some time in the beautiful nature.
On my journeys back and forth along the South Coast, a road sign kept calling me. It said Urriðafoss. The waterfall of the sea trout. Only a 2 kilometer drive away, the sign said. So, on our way back home to Reykjavík I convinced my husband to stop at this waterfall, that I had indeed heard about and read about, but had no recollection of visiting. Which struck me as odd. My father hails from this part of the country and I've lost count of how many times I've driven the South Coast and admired Iceland's hidden gems, which are now, of course, common tourist knowledge.
A South Coast must do
If you're driving east from Reykjavík on the ring road, the road leading to Urriðafoss is literally a few meters before you cross the bridge over Þjórsá river. You take a right and then you drive the aforementioned 2 kilometers. Seeing that you, my kind readers, are quite quick and smart, you can figure out that if you're driving to Reykjavík, you turn left a few meters after crossing the bridge over Þjórsá.
The gravel road leading to the waterfall is well kept and I had no problem driving there in my little Toyota Auris. You will get to a crossroad where there's a farm on the right side named Urriðafoss (don't get confused now) and a sign leading to the actual waterfall to your left. I hardly managed to park my car when I saw it with my own eyes, this natural wonder simply took my breath away. This amazing waterfall, that has more volume than any other waterfall in the whole of Iceland. And you can feel it, almost touch it. Don't try to touch it though! And the massive power of the waterfall comes as no surprise, seeing that it is located in Þjórsá river, Iceland's longest river.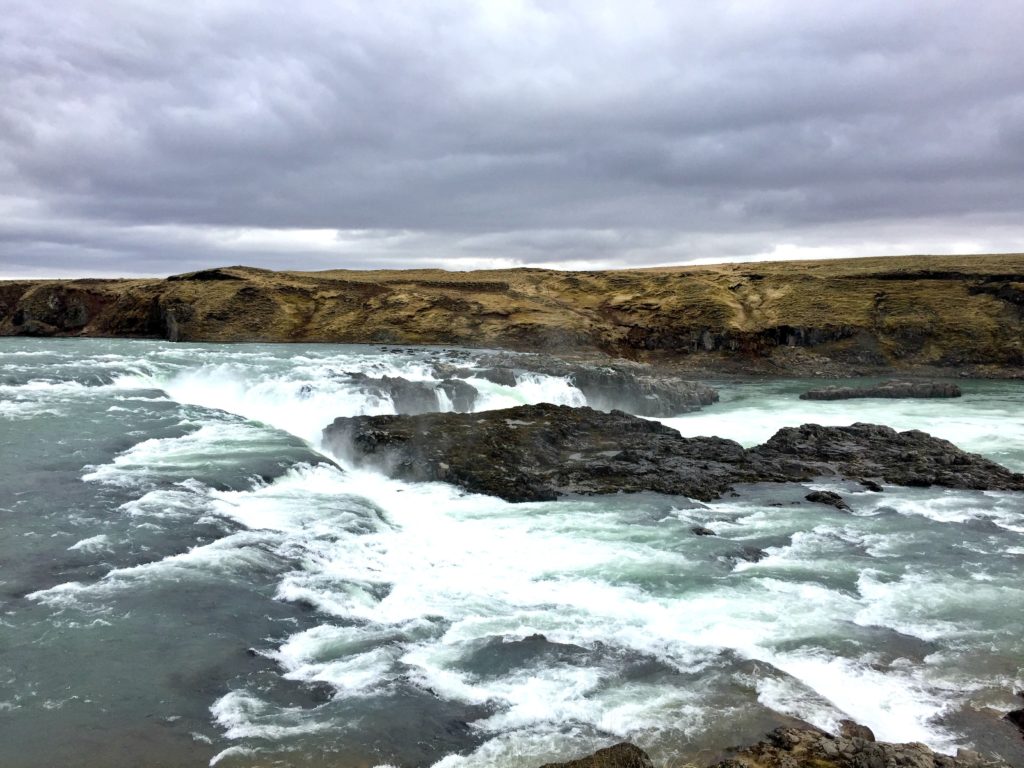 The area surrounding Urriðafoss is exemplary. There are walking paths along the river bank, with plenty of space to just be one with the waterfall. Or take loads of photos. Or both! An added bonus was that me and my family were the only ones there! At a waterfall. On the South Coast of Iceland. Fluke, coincident or pure luck, I have no idea. But it was a nice change of pace to the over crowded Seljalandsfoss and Gullfoss. Not to mention Skógarfoss.
I hope you will make this easy turn off the ring road if you're driving the South Coast. It's so easy to navigate that even a monkey could do it! It is truly one of the most beautiful waterfalls in Iceland.