Posted on
Sunday, July 2, 2017
Hello August! It's the month that many Icelanders have been waiting patiently for and it's finally here. But what is it exactly that makes Iceland in August so awesome?
Well, the climate is still pretty good in Iceland in August. It's still summer after all and the heat is pretty similar to July. The average high in Reykjavík is 13°C (55.4°F) and the average low is 7.9°C (46.2°F). But we are still reminded of the dark winter ahead when we get a few hours of pitch black night. Goodbye, summer sun!
Pack light – sort of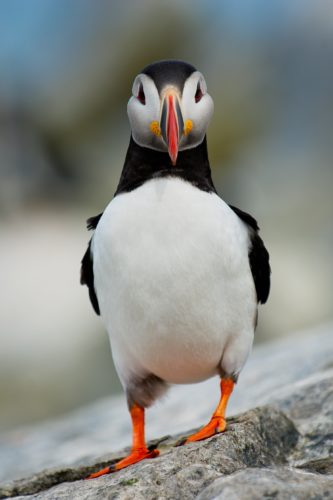 But the Icelandic climate is of course unpredictable, like I've said numerous times already, so I can't make any promises that we won't have rain and wind. You can pretty much count on some days like that in Iceland in August. But you don't have to pack to heavy for your trip. Just pack some cozy layers and you can't go wrong with wool to fight off the cold evenings and the sea breeze. Bring sunglasses and sunscreen and pack some gloves and a hat. Then you're good to go.
Bye, bye Puffins
If you're a bird lover, you should know that we're drawing near to the end of the Puffin season I'm afraid. The Puffins migrate to Iceland each year between April and September and some of the best spots to see them are Látrabjarg in the Westfjords, The Westman Islands, Dyrhólaey in South Iceland and Grímsey island in the North.
Biggest party of the year
Speaking of islands, August is the home of the biggest travel weekend for locals. I'm talking about Verslunarmannahelgin (try saying that 10 times fast), meaning Weekend of the Merchants. The weekend precedes the first Monday of August which is a national bank holiday in Iceland so it's a long weekend. It's a time for people to get drunk out of their minds and make out with someone they just met during various festivals around the country. So, get ready to interact with some shit faced locals!
The biggest festival during Verslunarmannahelgin, or Versló for short, is Þjóðhátíð í Eyjum in the Westman Islands. It's supposed to be an open-air music festival, but it's less about the music, more about the booze. The Westman Islands are flooded with guests during bank holiday but the festival has been controversial the last years because of excessive binge-drinking and the high number of sexual violence charges.
Loads of tourists have flocked to the festival in recent years but you should know that the weather plays a big part in the festival, making it a really dirty one quite quickly if it starts to rain.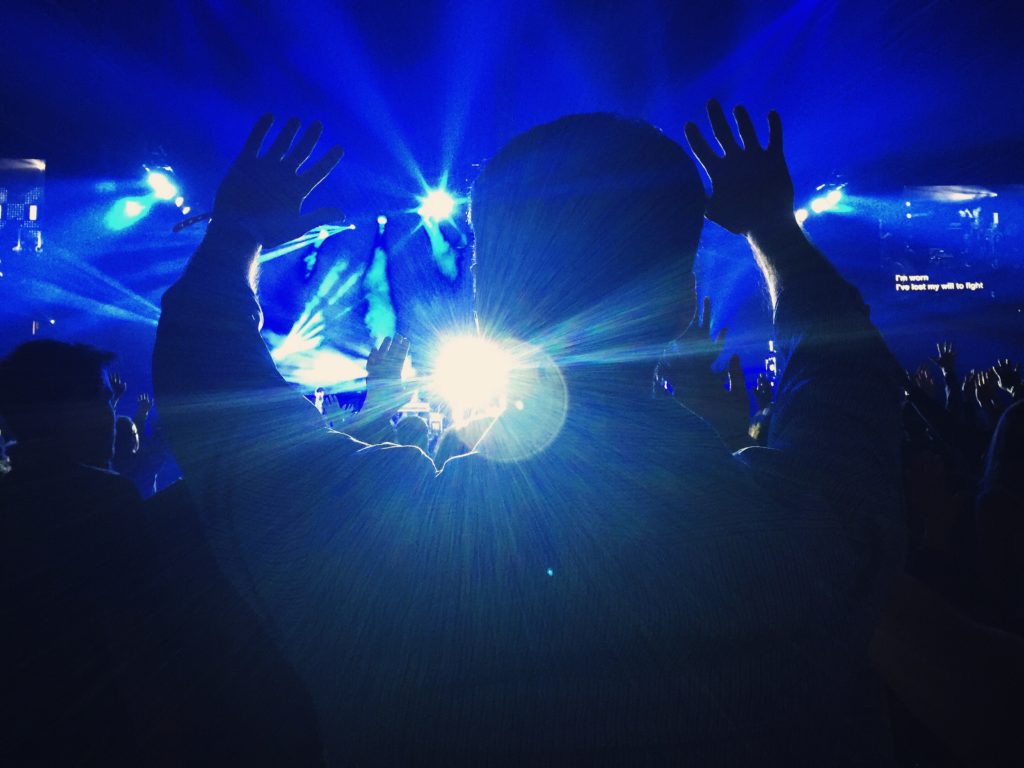 Dirty weekend
Another popular festival is Mýrarboltinn in the Westfjords. It's a tournament in swamp soccer – making it 2-0 for dirty entertainment during bank holiday. This year the festival takes place in Bolungarvík and it truly is a sporting event like no other, originating in Finland. You don't have to sign up to compete in muddy football to attend the festival because there are loads of other activities to entertain you, including performances by legendary pop singer Páll Óskar and rapper Emmsjé Gauti.
If you're traveling North you could check out Síldardagar festival in Siglufjörður or Ein með öllu in Akureyri. In the East you will find Neistaflug at Neskaupstaður and if you want to stay clear of any alcohol intake you can go to Sæludagar at Vatnaskógur resort where drugs and alcohol is forbidden. You can also just stay in Reykjavík and enjoy Innipúkinn festival, a music festival taking place at bars Húrra and Gaukurinn.
Let's celebrate the fish
We are not nearly done with festivities in Iceland in August. I wasn't kidding when I welcomed you to the late summer party.
One of the most popular festivals of the year is undoubtably Fiskidagurinn mikli, or the Great Fish Day. It's held in Dalvík in the North of Iceland on the weekend succeeding the bank holiday weekend. The festival basically centers around a huge seafood buffet where all food is free of charge. Sure, it's good for the budget, but be prepared to wait in line because thousands of locals and foreigners flock to Dalvík to take part in the fishy celebration. But make sure you try some fish soup from a local or two. It's amazing.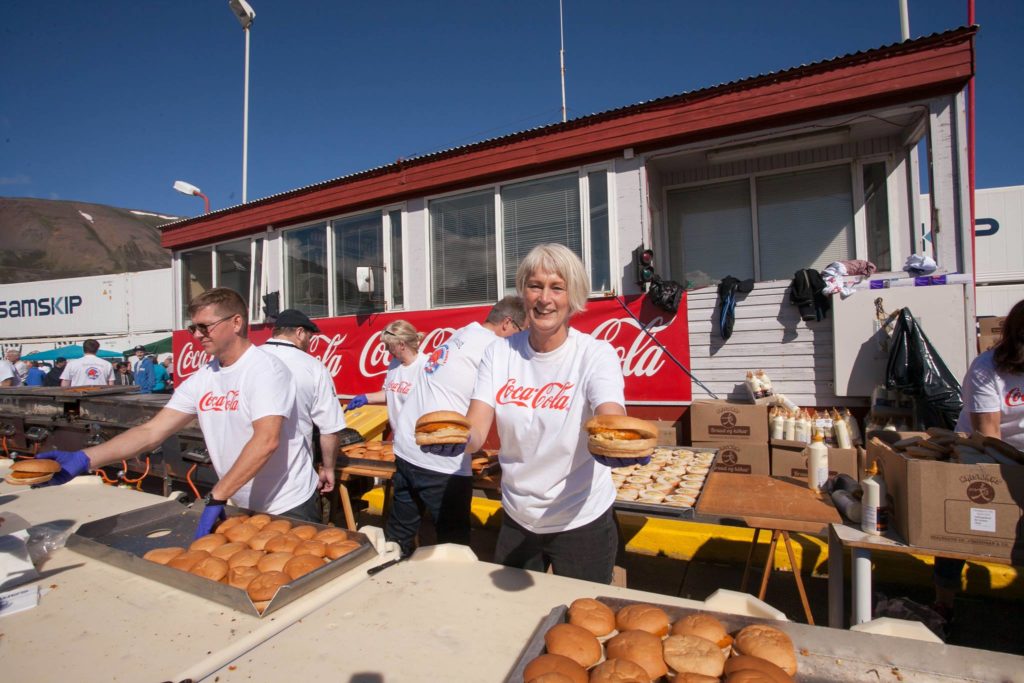 Breathe in the culture
Then there is of course Menningarnótt, Culture Night, held on the 19th of August. This amazing day starts off with the Reykjavík Marathon where runners can choose from various distances to test their stamina and determination. The run starts early in the morning but later in the day, at 3 PM, there's a smaller race for kids of all ages. Reykjavík is crowded and lively the whole day, with too many events to mention happening all over town, whether it be music, art or magic. Just check out the program and plan the day – it's a long one but a fantastic one!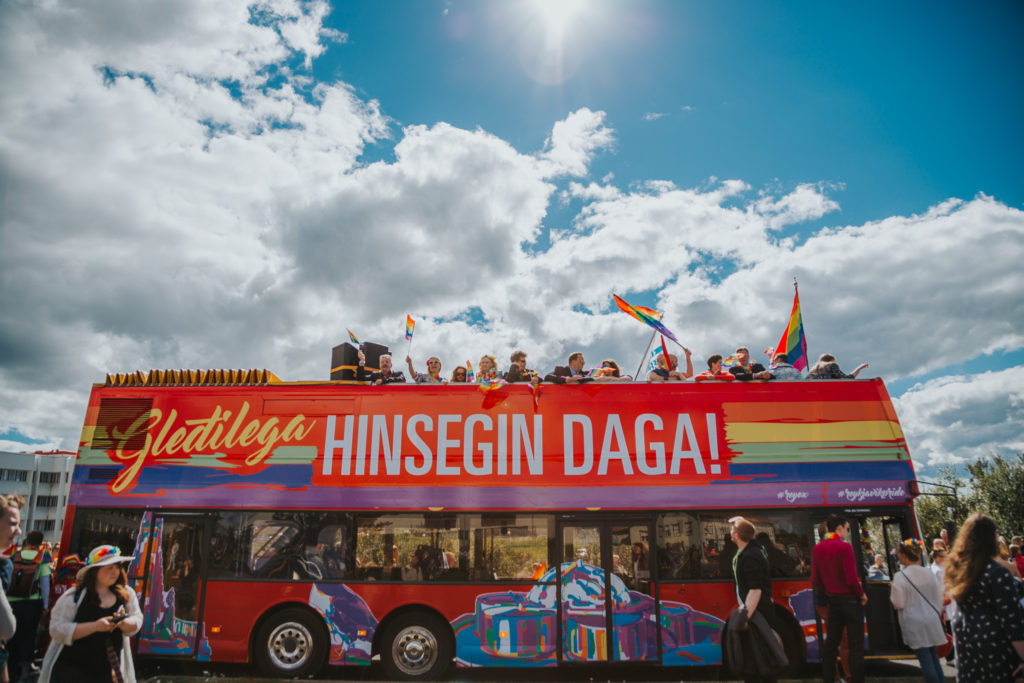 Here come the water works
Last, but not least, is Reykjavík Pride, a festival dedicated to the LGBTQIA+ community. It's one of my personal favorite festivals, mainly because of the annual Reykjavík Pride Parade. There's just something about that parade that always brings tears to my eyes when I think of how much people have had to fight for their right to be themselves. The glitz and glam doesn't hurt either.
But Reykjavík Pride is more than just a parade. It's an array of events taking place from the 8th of August until the 13th. You can see the program here and plan away!
Take a tour
And if you want to check out some tours in August, you should go glacier kayaking at Jökulsárlón glacier lagoon, visit the highlands before the roads close, explore the South coast and go paragliding or just experience the Reykjavík nightlife in good company.
Have fun in Iceland in August!
Main photo credit: Photo by Richard Clyborne of Music Strive