Posted on
Wednesday, March 8, 2017
I just can't get enough of the Westfjords of Iceland. Sure, they are a bit hard to get to for most of the year, but when you do get a chance to visit, it's absolutely amazing. Oh, and they have the best bakery in Iceland.
You see, it's not just the nature in the Westfjords that is worth the visit. The food is also quite legendary at some places and I'm here to tell you that you have to visit the best bakery in Iceland, which happens to be in the Westfjords.
I've already written a love fest piece about Tjöruhúsið, but now it's time to praise another place in Ísafjörður that is nothing short of epic. I'm talking about one of Iceland's most famous bakeries – Gamla Bakaríið, or the Old Bakery.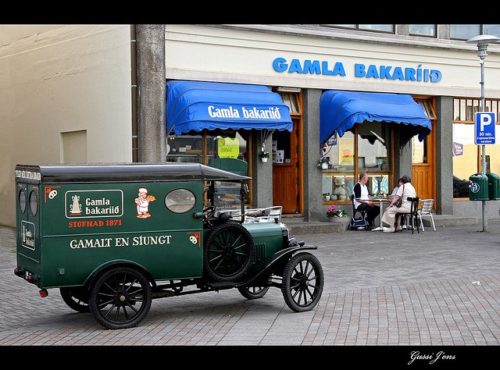 Gamla Bakaríið has been around in Ísafjörður for more than a hundred years and some even say it's the best bakery in Iceland. I, for one, have to agree with that claim.
I'm a pure romantic at heart and for that reason I love visiting Gamla Bakaríið because the whole décor is so rustic and homey. Dozens of old photos hang on the walls of this extremely cute bakery and you can just get lost in the sugary treats and sweet pastry they offer. The romance actually commences before you enter the bakery because outside stands an old fashioned car, which is actually the first car to roam the streets of Ísafjörður.
So, if you're in Ísafjörður you have to visit Gamla Bakaríið. Buy traditional, Icelandic delicacies like kleina, or cruller. Or be more adventurous and buy a slice of one of their lush cakes or grab a beautifully decorated cupcake. It's all tasty and delicious!
But if you don't get the chance to visit the Westfjords, you can go to Rangá shop and buy a selection of products from Gamla Bakaríið, such as buns and rye bread. Rangá is at Skipasund 56 in Reykjavík, a bit outside of downtown Reykjavík.
Enjoy the party in your mouth!