Posted on
Friday, September 1, 2017
"Originally it was just a joke and I thought I was incredible funny," says 32 years old programmer Rob Tasker. Rob is the man behind the website vikingclap.com – an homage to the world renowned viking clap made famous by the supporters of the Icelandic national team in football. The site lets you play out the viking clap, with sound bytes from actual matches.
The Icelandic national team in football made history on the 9th of October when it qualified to the FIFA World Cup, making it the only country with less than a million inhabitants to qualify in the history of the cup. On the 9th of October, the Icelandic team won 2-0 to Kosovo in Iceland and it was after that game that vikingclap.com was born, making it possible to practice the notorious viking clap in the comfort of your own home.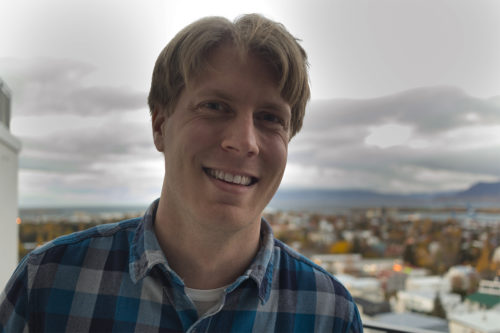 "I watched the game at a bar with a friend of mine and we were wondering if anyone had created a site similar to this one. I made the site later that same night," says Rob, originally from Toronto, Canada.
Everyone loves the viking clap
The website has become extremely popular, so much so that Rob feels the need to develop it more.
"At first I thought I would only have an interactive viking clap on the site and nothing else. But because of it's popularity I think I will have to develop it further," says Rob, who got lucky when purchasing the url for the site.
"Believe it or not, the domain was available and cost less than 500 ISK so it was a given that I should buy it."
Iceland made him fall in love with football
Rob has been living in Iceland for a few years and has developed a love for football.
"I had never even watched a football match before I moved to Iceland. Last summer I decided to go down town and watch Iceland go head to head with England. The atmosphere, this immense national pride and the tension was incredible so I've been a dedicated fan of the national team ever since," he says, referring to the match between England and Iceland in the Euro 2016, where Iceland won 2-1. I, of course must ask him which player of the squad is his favorite.
"I have to say Gylfi Sigurðsson. The man of the match against Kosovo. The player who got us to the world cup. I think all the players are great and they all play a vital part in making the team as great as it is today."
"We will make it to the world cup again"
You could say that the whole of Iceland was in a state of euphoria when it was clear that Iceland would participate in the FIFA World Cup in Russia next year, the first time in this little nation's history. But how did Rob feel about this amazing achievement?
"I was so excited but it didn't come as a surprise. The guys have been playing so well and I never lost faith in them," he says and adds that he won't make it to Russia next year.
"I just had a daughter so I won't be going to Russia next summer, but I'll definitely go next time because there will be a next time. We will make it to the world cup again."
And of course I can't let this innovative programmer go without asking him if there's a special technique to the viking clap?
"Just have fun! It doesn't hurt to get in some practice before the world cup."